BARITAN TRADITION: A CULTURAL AND HUMAN RELATIONSHIP IN FORMING ECO-SPIRITUALITY IN WONODADI COMMUNITY BLITAR
Keywords:
Baritan Tradition, Cultural and Human Relations, Eco-Spirituality
Abstract
Baritan Tradition is defined by the people of Wonodadi Blitar, as a form of gratitude to God for what has been given to them in the form of an abundant harvest. The harvest as a symbol of soil fertility and the safety of the life of the Wonodadi people as a form of blessing. Baritan Tradition with the takir plontang symbol means that protecting nature is the duty of humans to be stable in carrying out life. This research is a qualitative research with a phenomenological approach, in order to make it easier to identify a community phenomenon based on individual experiences in the community, data obtained from observations, interviews by focusing on the Wonodadi Blitar community with predetermined criteria and supported by the study of Sociology of Religion in order to strengthen one analysis of culture, society and religion. As for the results of the first analysis, there is a function of the relationship between humans and culture which is seen in the form of preserving baritan as a forum for friendship between people. Second, there is an awareness of the community's eco-spirituality by protecting nature, natural products, and the takir plontang as a manifestation of God's existence in maintaining safety in the process of planting until the results are abundant and blessed.
Downloads
Download data is not yet available.
References
Agustina, A., Ismaya, E. A., & Setiawan, D. Makna Tradisi Barikan Bagi Pendidikan Karakter Anak Desa Sedo Demak. Jurnal Educatio FKIP UNMA, 7(3), 1213-1222. (2021)
ALIE, S. ANALISIS PERAYAAN UPACARA ADAT BARITAN DALAM MENUM-BUHKAN NILAI PERSATUAN DI MASYARAKAT (Studi Kasus di Desa Karanng Layung Kec. Sukra Kab. Indramayu) (Doctoral dissertation, FKIP UNPAS). (2021)
Aprillia, D., & Syani, A. EKSISTENSI TRADISI BARITAN DI KALANGAN GENERASI MILENIAL: STUDI KASUS DI DESA TELOGOREJO, DISTRIK BATANGHARI, KABUPATEN LAMPUNG TIMUR. Jurnal Sociologie, (2022)
ASNAWI, A. R. TRADISI BARITAN SEBAGAI MEDIA PENANAMAN NILAIRELIGIUS DAN BUDAYA MASYARAKAT DESA SALAM WONODADI BLITAR. (2021)
ASNAWI, A. R. TRADISI BARITAN SEBAGAI MEDIA PENANAMAN NILAI RELIGIUS DAN BUDAYA MASYARAKAT DESA SALAM WONODADI BLITAR. (2021)
Bennett, T. Cultural studies and the culture concept.Cultural studies,29(4), (2015)
Billington, R., Strawbridge, S., Greensides, L., & Fitzsimons, A. Culture and Society: Sociology of Culture. Bloomsbury Publishing. (1991).
Bonvillain, N. Language, culture, and communication: The meaning of messages. Rowman & Littlefield. (2019).
Chenu, MD, Taylor, J., & Little, LK (Eds.). Nature, Man, and Society in the Twelfth Century: Essays on New Theological Perspectives in the Latin West(Vol. 37). University of Toronto Press. (1997).
Clifford, G. The religion of Java.Illinois The Free Press of Glencoe. (1960).
Creswell, JW, & Poth, CN. Qualitative inquiry and research design: Choosing among five approaches. Sage publications. (2016).
Fauzi, S. TUGAS SOSIOLOGI BUDAYA BARITAN. (2016).
Griyanti, HE, Sunardi, S., & Warto, W. Digging The Traces of Islam in Baritan Tradition. Inter-national Journal of Multicultural and Multireligious Understanding, 5(3), (2018).
Irawanto, DW, Ramsey, PL, & Ryan, JC. Challenge of leading in Javanese culture.Asian Ethnici-ty,12(2), (2011).
Lestari, A. D. N. Upaya Penanaman Nilai-Nilai Religius Dalam Tradisi Baritan (Studi Kasus Di Desa Gawang Kecamatan Kebonagung Kabupaten Pacitan) (Doctoral dissertation, IAIN Ponorogo). (2019).
Lestari, LRP, Sopiah, S., & Adinugraha, HH. INTEGRATION OF ISLAMIC EDUCATION VALUES TOWARDS THE "YATIMAN" TRADITION IN THE MONTH OF SURO IN PEKALONGAN.Zawiyah: Journal of Islamic Thought,7(1), (2021).
Lindayani, S. W., Mukaromah, A. L., & Wirai'I, M. R. ADAPTASI BUDAYA DI TENGAH PANDEMI ANTOLOGI ESAI KKN 045 VDR 2021 IAIN TULUNGAGUNG. (2021).
Mulyana, A. Sekaten tradition: The ritual ceremony in Yogyakarta as an acculturation reality of Javanese culture in Indonesia.International Journal of Humanities and Social Science Studies, IV (2), (2017).
Pals, D. Nine theories of religion. (2014).
Pathak, V., Jena, B., & Kalra, S. Qualitative research.Perspectives in clinical research,4(3). (2013).
Pratiwi, F. I. Makna Simbol Komunikasi Takir Plonthang Dalam Tradisi Baritan (Studi Kasus Masyarakat Desa Wringinrejo Kecamatan Gambiran Kabupaten Banyuwangi) (Doctoral disserta-tion, UNIVERSITAS MUHAMMADIYAH JEMBER). (2021).
Solihah, R. S. Agama dan Budaya. Al-Mada: Jurnal Agama, Sosial, Dan Budaya, 2(1), 77-94. (2019).
Somatri, R. A., & Merlina, N. Upacara Barutan Pada Masyarakat Betawi Di Jakarta Timur. Patanjala: Journal of Historical and Cultural Research, 6(3), 381-396. (2014).
Sri, S., Arif, Z., & Unggul, S. H. KAJIAN NILAI-NILAI BUDAYA JAWA DALAM KEARIFAN LOKAL "BARITAN" DI ASEMDOYONG KECAMATAN TAMAN KABUPATEN PEMALANG. (2017).
Taylor, SJ, Bogdan, R., & DeVault, M. Introduction to qualitative research methods: A guidebook and resource. John Wiley & Sons. (2015).
Wahyuningtias, W., & Astuti, N. D. ANALISIS NILAI-NILAI DALAM TRADISI BARITAN SEBAGAI PERINGATAN MALAM SATU SYURO DI DESA WATES KABUPATEN BLITAR. FKIP e-PROCEEDING, 134-138. (2016).
Willig, C. Reflections on the use of a phenomenological method. Qualitative research in psycholo-gy,4(3), (2007).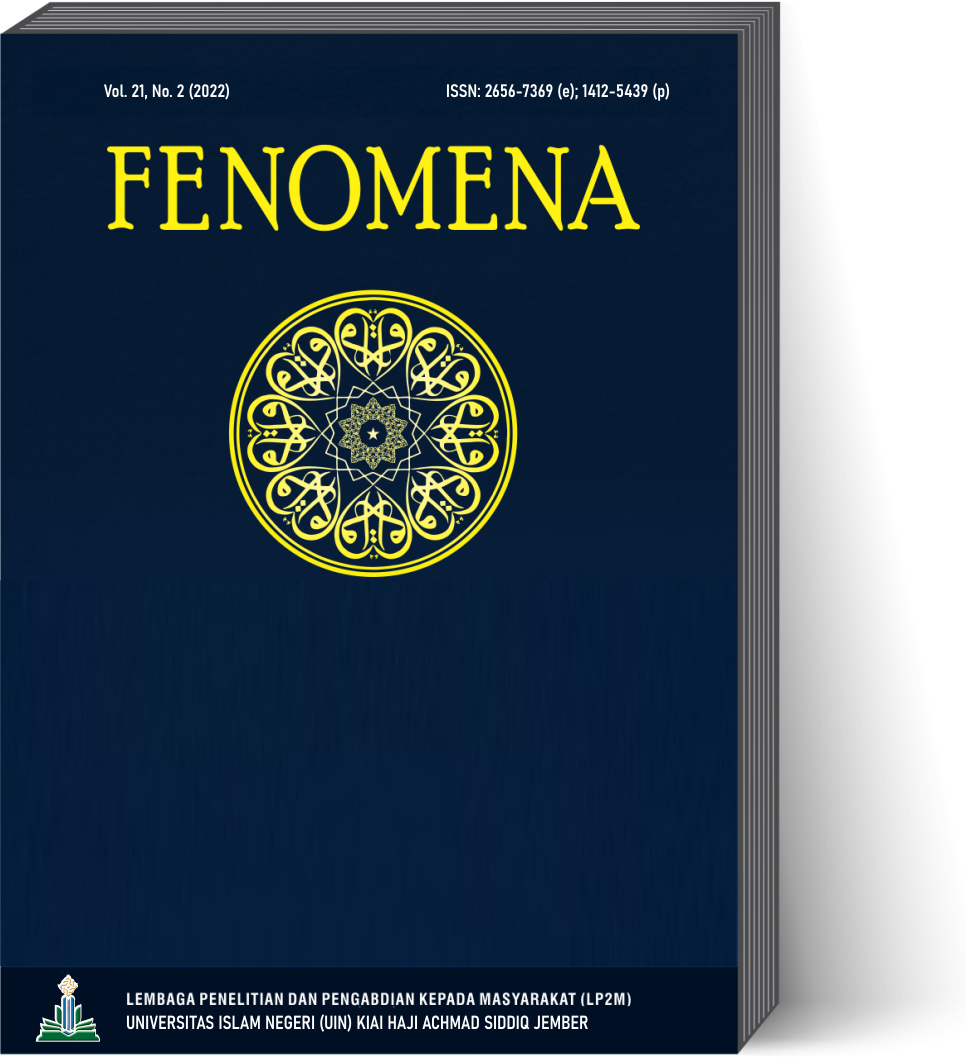 Downloads
How to Cite
Hanik, Umi, A Zahid, Muhamad Hijazi, and Shofia Qothrun Nada. 2022. "BARITAN TRADITION: A CULTURAL AND HUMAN RELATIONSHIP IN FORMING ECO-SPIRITUALITY IN WONODADI COMMUNITY BLITAR". Fenomena 21 (2):203 -16. https://doi.org/10.35719/fenomena.v21i2.125.
License
Copyright (c) 2022 Umi Hanik, A Zahid, Muhamad Hijazi, Shofia Qothrun Nada,
This work is licensed under a Creative Commons Attribution-NonCommercial 4.0 International License.