MULTICULTURAL EDUCATION TO BUILD THE MODERATE-RELIGIOUS CHARACTER AT BAITUL ARQAM ISLAMIC BOARDING SCHOOL
Keywords:
multicultural education, moderate-religious character
Abstract
The widespread act of radicalism under the guise of Islam has placed Muslims as the accused. The discussion of jihad in Islamic teachings is often referred to as the primary source of violence. Likewise, pesantren (Islamic boarding school) is also accused of instilling radicalism. Therefore, it is urgently needed to provide an understanding of education in pesantren. Whether pesantren contribute to radicalism, or conversely, it has become a torch for moderation and respect for human rights. This research is carried out to describe the value of multicultural education and how it is taught in building the moderate-religious character at Baitul Arqom Islamic Boarding School Jember. A qualitative method with observation, interview, and documentation techniques of data collection is used for this research. The data analysis is a descriptive qualitative method, while the source and technique triangulation are shown for the validity of the data. The study highlights that in building the moderate-religious character at Baitul Arqom Islamic boarding school, kyai and teachers preach the values of honesty, tolerance, democracy, togetherness, and cooperation. These values are promoted through the comparative study of madhab books and religions, moral habituation, history, and culture. Eventually, it affects the growth of the moderate-religious character, tolerance, and mutual respect.
Downloads
Download data is not yet available.
References
Ahmad Baedowi and friends., Potret Pendidikan Kita, Jakarta: Pustaka Alvabet, 2015
An Nahlawi Abdurrahman, Pendidikan Islam di Rumah, Sekolah, dan Masyarakat, (Ushulut Tarbiyah Islamiyah wa Asalibiha fil Baiti wal Madrasati wal Mujtama), translated by Shihabuddin, 2nd edition, Jakarta: Gema Insani Pers, 1996.
Danim Sudarwan, Menjadi Peneliti Kualitatif, Bandung: Pustaka Setia, 2002.
Eliana, Sari. The Role of Learning Management of Islamic Boarding School (Pesantren) In Im-provement of Their Students Religious Tolerance In West Java – Indonesia. Interna-tional Journal of Innovation and Applied Studies. Vol. 19 No. 1 (2017)
Gugunel‐Guyanie, Resolusi Jihad Paling Syar'i, Yogjakarta: Pustaka Pesantren , 2010.
H.A.R Tilaar, Kekusaan Dan Pendidikan Suatu Tinjauan Dan Persepektif Studi Kultural, Indonesia: Tera, 2003
Hasyim Dardi H.A, Yudi Hartono. Pendidikan Multikultural di Sekolah. Surakarta: UPT penerbi-tan dan percetakan UNS
http://edukasi.kompasiana.com,pengertian-pendidikan-multikultural 435284. html accessed on 7 september 2018
Koentjaraningrat, Kebudayaan, Mentalitet dan Pembangunan , Jakarta: Gramedia, 1976
Madjid Nurcholis, Bilik‐ bilik Pesantren, Jakarta:Paramadina,1997 .
Mahfud Choirul, Pendidikan Multikultural, Yogyakarta: Aditya Media, 2010
Majid Abdul and Dian Andayani, Pendidikan Agama Islam Berbasis Kompetensi: Konsep dan Imple-mentasi Kurikulum 2004, Bandung: PT. Remaja Rosdakarya, 2004.
Maksum Ali, Pluralisme dan Multikulturalisme: Paradigma Baru Pendidikan Agama Islam Di Indone-sia,Yogyakarta: Aditya Media, 2010.
Mashadi Imron, Pendidikan Agama Islam Dalam Persepektif Multikulturalisme, Jakarta: Balai Lit-bang Agama, 2009.
Shulthon Masyhud dan Khusnurdilo Moh, Manajemen Pondok Pesantren, Jakarta: Diva Pustaka, 2005
Moleong J Lexy, Metode Penelitian Kualitatif, Bandung: Rineka Cipta, 2008.
Mulyana Dedi, Metodologi Penelitian Kualitatif, Bandung: Remaja Rosdakarya, 2006
MUNIR Misbahul, Pesantren Kawah Candradimuka Pendidikan Multikultural, dalam Jurnal Pendidi-kan Islam, Vol. I, No. 1, Juni 2009
Muslich Masnur, Pendidikan Karakter Menjawab Tantangan Krisis Multidimensional, Jakarta: Bumi Aksara, 2011.
Salim Agus, Indonesia Belajarlah! Membangun Pendidikan Indonesia, 2nd edition, Yogyakarta: FIP UNS collaborated with Tiara Wacana, 2007.
Satori Ahmad dkk, Islam Moderat Menebar Islam Rahmatal Lil Alamain, Jakarta: Pustaka Ikadi, 2012
Siroj Said Aqil, Tasawuf sebagai Kritik Sosial: Mengedepankan Islam sebagai Inspirasi bukan Aspirasi, Bandung: Mizan, 2006
Sugiyono, Metode Penelitian Kuantitatif Kualitatif, Bandung: Alfabeta, 2010.
Sulalah, Pendidikan Multikultural : Didaktika Nilai-nilai Universalitas Kebangsaan, (Malang : UIN-Maliki Press, 2012)
Suprapto, Metode Riset, Jakarta: Rineka Cipta, 2003.
Tilaar H.A.R, Multikulturalisme: Tantangan-tantangan Global Masa Depan dalam Transformasi Pen-didikan Nasional, Jakarta: Grasindo, 2004.
Tim Departemen Agama RI, Pola Pengembangan Pondok Pesantren, Jakarta: Direktorat Jenderal Kelembagaan Agama Islam, 2003.
Zarkasyi Abdullah Syukri , Manajemen Pesantren Pengalaman Pondok Khalaf Gontor, Ponorogo: Trimurti Press, 2005
Zubaedi, Desain Pendidikan Karakter Konsepsi dan Aplikasinya dalam Dunia Pendidikan, Jakarta: Kencana, 2012
Zuhriy Syaefuddin M, Budaya Pesantren dan Pendidikan Karakter Pada Pondok Pesantren Salaf, da-lam Jurnal Walisongo,UIN SUKA Yogyakarta Volume 19, Nomor 2, November 2011.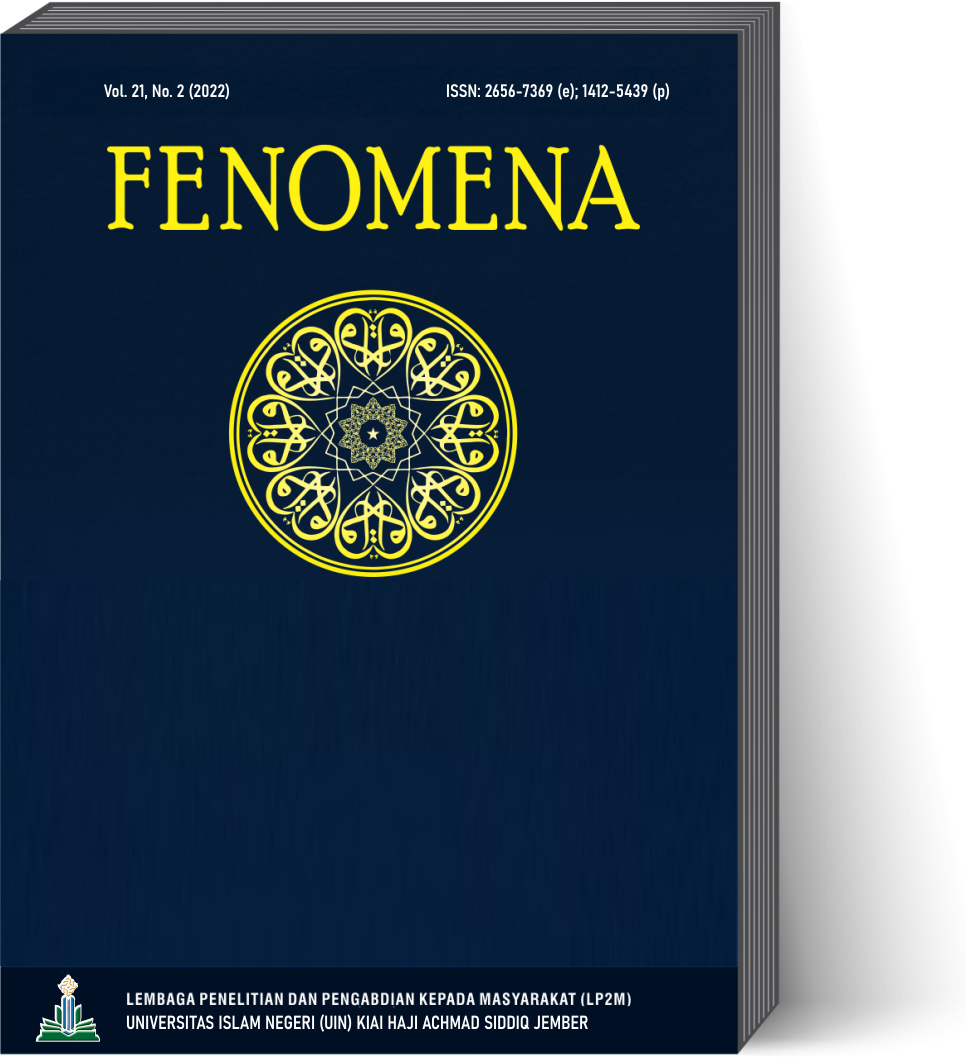 Downloads
How to Cite
Hatta, Hatta, Mursalim Mursalim, Muhammad Junaidi, Najibul Khoir, Abu Bakar Sirajo Magaji, and Martha Adriana Maza. 2022. "MULTICULTURAL EDUCATION TO BUILD THE MODERATE-RELIGIOUS CHARACTER AT BAITUL ARQAM ISLAMIC BOARDING SCHOOL". Fenomena 21 (2):271 -82. https://doi.org/10.35719/fenomena.v21i2.131.
License
Copyright (c) 2022 Hatta et al.
This work is licensed under a Creative Commons Attribution-NonCommercial 4.0 International License.