KONTESTASI PRO DAN KONTRA RITUAL PETIK LAUT PADA MASYARAKAT NELAYAN PUGER JEMBER
Contestation Of The Pros And Cons Of Sea Picking (Petik Laut) Rituals In The Puger Jember Fishing Community
Keywords:
Contestation of Petik laut ceremony, social effect
Abstract
Petik Laut ceremony is an activity undertaken by the Puger fisherman community, ethnic backgrounds, religions, and culture are diverse, it makes people have a particular view in doing that activity that communities are from ethnic Javanese, Madurese, mandarin ethnic, and also Chinese ethnic. Petik Laut is a ritual ceremony conducted puger fisherman community to express their gratitude to the good, the harvest sea, sailing towards salvation in the lord. It is done every os Suroor Muharram month every year. The goal of the ceremony of Petik Laut in puger is they hope they will get a lot of fish safely when they are fishing and sailing. There is some contradiction between the majority of anglers and religious leaders or ulama that deal with the petik laut ceremony. Most religious leaders disagree about the petik laut ceremony because of the fisherman's belief that they will get much fish when the petik laut ceremony is undertaken. It's about believing that Allah is the only one that gives us safety and sustenance or treasure (fishes).  Most fisherman communities believe that the petik laut ceremony is an agent to be safe and about sustenance. In contrast with most religious leaders or ulama, the supposed petik laut ceremony is shirk (syirik) in the Islamic religion. The difference between the fisherman community and spiritual leaders about the petik laut ceremony will not become a conflict because of their awareness to be in good social interaction. Cooperation and togetherness are still alive in their community in Puger Jember.
Downloads
Download data is not yet available.
References
Clifford Geertz, Agama Dan Kebudayaan (Yogyakarta:Kanisius, 1992)
Irwan Abdullah, Konstruksi Dan Reproduksi Kebudayaan. (Yogyakarta.Pustaka Pelajar 2015)
Irwan Abdullah, Konstruksi dan Reproduksi Kebudayaan. (Yogyakarta.pustaka pelajar 201)
Muhaimin AG, Islam Dalam Bingkai Budaya Lokal Potret Dari Cirebon (Jakar-ta:PT.Logos Wacana Ilmu,2001)
Piotr Sztompka, Sosiologi Perubahan Sosial (Jakarta: Prenada Media Grup, 200)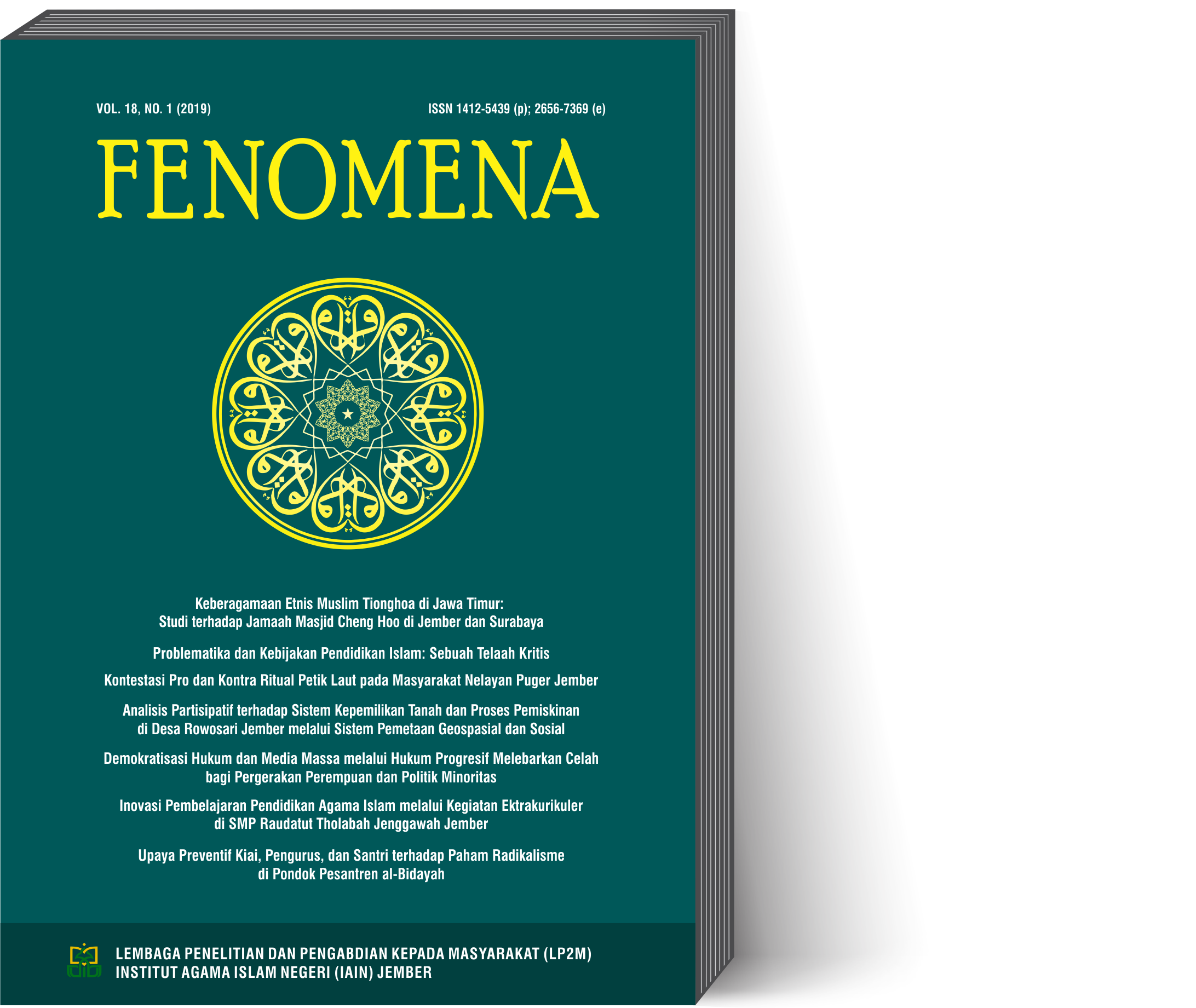 Downloads
How to Cite
Qomariyah, Dewi Nurul, and Ahmad Badrus Sholihin. 2019. "KONTESTASI PRO DAN KONTRA RITUAL PETIK LAUT PADA MASYARAKAT NELAYAN PUGER JEMBER: Contestation Of The Pros And Cons Of Sea Picking (Petik Laut) Rituals In The Puger Jember Fishing Community". Fenomena 18 (1):81 - 92. https://doi.org/10.35719/fenomena.v18i1.17.
License
Copyright (c) 2019 Dewi Nurul Qomariyah, Ahmad Badrus Sholihin
This work is licensed under a Creative Commons Attribution-NonCommercial 4.0 International License.