DEMOKRATISASI HUKUM DAN MEDIA MASSA MELALUI HUKUM PROGRESIF MELEBARKAN CELAH BAGI PERGERAKAN PEREMPUAN DAN POLITIK MINORITAS
The Democratization Of Law And Mass Media Through Progressive Laws Widens The Gap For Women's Movements And Minority Politics
Keywords:
politik identitas, demokrasi, media massa, hukum progresif, identity politics, democracy, mass media, progressive law
Abstract
Meledaknya pemberitaan kasus video pribadi artis pada pertengahan tahun ini —yang kemudian memancing reaksi kuat baik dari masyarakat sipil maupun pemerintah— setidaknya telah memperlihatkan bagaimana hukum positif yang berbicara moral, dan pengangkatan isu dalam media massa yang tidak proporsional. Kedua hal tersebut tentu melahirkan kecurigaan terhadap pelaksanaan demokrasi di Indonesia karena telah memperlihatkan gejala terjadinya diskriminasi politik; yang dapat berimplikasi pada terkucilkannya perjuangan politik perempuan. Pemberlakuan hukum yang mengedepankan progresivitas dibutuhkan sebagai solusi alternatif bagi permasalahan ini; melalui pengupayaan netralitas hukum dan media massa —yang dengan demikian membuka jalan lebar bagi pembudayaan demokrasi dan kesetaraan gender.
The explosion of coverage of the artist's video case in the middle of this year —which then provoked a strong reaction from both civil society and the government— has at least shown how favorable laws speak of morals and the disproportionate lifting of issues in the mass media. Both of these things certainly raise suspicion against the implementation of democracy in Indonesia because it has shown symptoms of political discrimination, which can have implications for the exclusion of women's political struggle. The enactment of laws that promote progressivity is needed as an alternative solution to this problem; through the pursuit of legal neutrality and mass media —thus paving the way for the cultivation of democracy and gender equality.
Downloads
Download data is not yet available.
References
Chantal Mouffe, On the Political (Routledge, 2005)
Denis McQuail, Mass Communication Theories (Sage Publication, 2000)
Dr. Suteki, Rekam Jejak Pemikiran Hukum Progresif Prof. DR. Satjipto Ra-hardjo
Firmansyah Arifin dkk, Hukum dan Kuasa Konstitusi (KRHN, 2004)
I Wayan Gendo Suardana, Urgensi Gagasan Hukum Progresif (kolom opini Bali Express 03/09/2010)
Jimmly Asshiddiqie, Teori Hans Kelsen Tentang Hukum (Konstitusi Press, 2006)
Katrin Voltmer (ed), Mass Media and Political Communication in New Democ-racies (Routledge, 2006)
Newcomb, Turner, Converse, Psikologi Sosial (Diponegoro, 1985)
Pan Mohamad Faiz, Mengawal Demokrasi Melalui Constitutional Review: Sem-bilan Pilar Demokrasi Putusan Mahkamah Konstitusi
Raymond Wacks, Philosophy of Law: A Very Short Introduction (Oxford Press, 2006)
Rocky Gerung (ed), Hak Asasi Manusia: Teori, Hukum, Kasus (Filsafat UI Press, 2006)
Rocky Gerung, Humaniora dan Arah Kebudayaan Kita
Rocky Gerung, Opini Publik vs Etika Publik
Thomas Meyer, Demokrasi: Sebuah Pengantar Untuk Penerapan (Friedrich-Ebert-Stiftung, 2002)
Veven Sp. Wardhana, Televisi dan Fashionista Atawa Perempuan Nista (Jurnal Perempuan, No. 54, 2007)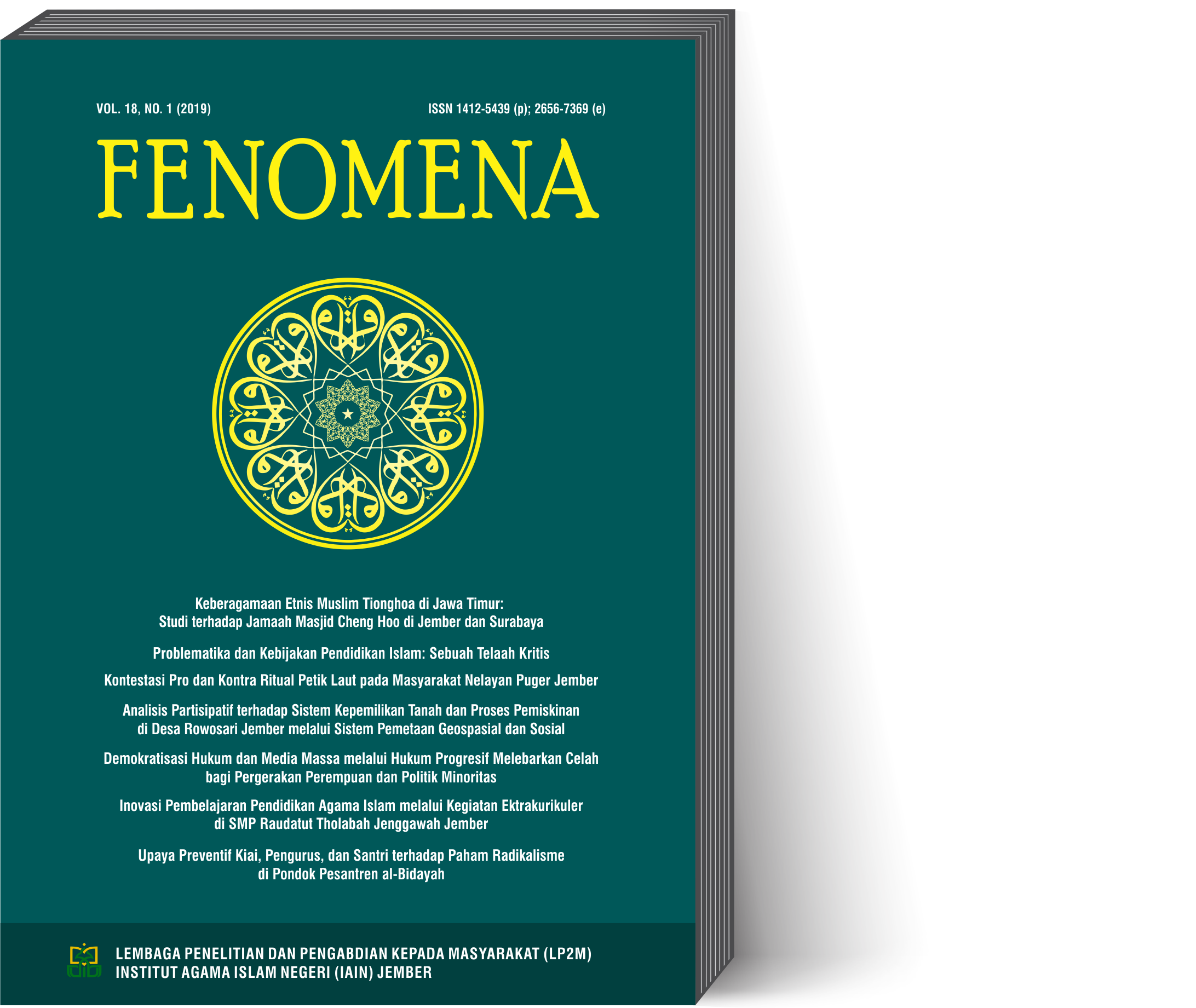 Downloads
How to Cite
Maghfiroh, Eva. 2019. "DEMOKRATISASI HUKUM DAN MEDIA MASSA MELALUI HUKUM PROGRESIF MELEBARKAN CELAH BAGI PERGERAKAN PEREMPUAN DAN POLITIK MINORITAS: The Democratization Of Law And Mass Media Through Progressive Laws Widens The Gap For Women's Movements And Minority Politics". Fenomena 18 (1):93 - 106. https://doi.org/10.35719/fenomena.v18i1.21.
License
Copyright (c) 2019 Eva Maghfiroh
This work is licensed under a Creative Commons Attribution-NonCommercial 4.0 International License.