INOVASI PEMBELAJARAN PENDIDIKAN AGAMA ISLAM MELALUI KEGIATAN EKTRAKURIKULER DI SMP RAUDATUT THOLABAH JENGGAWAH JEMBER
Learning Innovation of Islamic education through extracurricular activities at Raudatut Tholabah Junior High School Jenggawah Jember
Keywords:
Inovasi PAI, Ekstrakurikuler, Innovation Islamic Religious Education, Extracurricular
Abstract
Innovation is a necessity because there is no sedentary life. Times keep changing, and only people or institutions continue to innovate to survive. While institutions with no innovation are slow or fast, they are abandoned, stale, not marketable, and do not keep up with the times. The innovation of pesantren-based schools is an effort to ensure that an institution continues to withstand the onslaught of the modern era. Above destructive reality, if not responded to quickly, precisely, and intelligently will have a more severe impact. In an educational context, innovative ideas about pesantren-based schools and PAI learning innovation are one of the solutions which must be taken. Generally, PAI is terminology in schools, but it is not in Junior High School of Raudatut Tholabah; PAI learning developed at the school are Al-Qur'an - Hadith, Fiqh, SKI, and Aqidah Akhlak. The innovation of Islamic Learning Education Through Extracurricular Activities in SMP Raudatut Tholabah Jenggawah of Jember. It is the strengthening of religious values through the activities of having Dhuha Prayer and Dhuhur together, Reading and writing, tahfidzul and reading Al Qur'an together, Academic Guidance and Counseling Services, Scouting, Sports, and the arts.
Downloads
Download data is not yet available.
References
Ahmad Baedowi, dkk., Potret Pendidikan Kita (Jakarta: Pustaka Alvabet, 2015)
Abdul Majid dan Dian Andayani, Pendidikan Agama Islam Berbasis Kompetensi: Konsep dan Implementasi Kurikulum 2004 (Bandung: PT. Remaja Rosdakarya, 2004)
Dedi Mulyana, Metodologi Penelitian Kualitatif (Bandung: Remaja Rosdakarya, 2006)
Gugunel‐Guyanie, Resolusi Jihad Paling Syar'i (Yogjakarta: Pustaka Pesantren, 2010)
Haidar Putra Daulay , Pendidikan Islam, dalam Sistem Pendidikan Nasional Indonesia, Jakarta: Kencana, 2004.
Haidar Putra Daulay, Historisitas dan Eksistensi Pesantren dan Madrasah, (Yogyakarta: Tiara Wacana, 2001)
Kementerian Pendidikan dan Kebudayaan RI, Direktorat Jenderal Pendidikan Dasar dan Menengah, Direktorat Pembinaan SMP, Laporan Monitoring dan EvaluasiProgram Sekolah Berbasis Pesantren (Jakarta: KEMENDIKDASMEN, 2016)
Koentjaraningrat, Kebudayaan, Mentalitet dan Pembangunan (Jakarta: Gramedia, 1976.
Lexy J. Moleong, Metode Penelitian Kualitatif (Bandung: Rineka Cipta, 2008)
M. Syaifuddien zuhriy budaya pesantren dan pendidikan karakter Pada pondok pesantren salaf, Jurnal Walisongo,UIN SUKA Yogyakarta Volume 19, Nomor 2, November 2011
Mastuhu, Sistem Pendidikan pesantren, INIS, Jakarta, 1994
Muhaimin, Pemikiran dan Aktualisasi Pengembangan Pendidikan Islam (Jakarta: Rajawali Pers, 2012)
NurcholisMadjid,Bilik‐bilikPesantren(Jakarta:Paramadina,1997)
Rahmat, PAI Interdisipliner: Layanan Khusus CIBI, Kenakalan Remaja, Integrasi Imtaq dan Iptek, Pendidikan Anti Kekerasan dan Kurikulum Berbasis Karakter (Yogyakarta: Deepublish, 2016)
Said Aqil Siroj, Tasawuf sebagai Kritik Sosial: Mengedepankan Islam sebagai Inspirasi bukan Aspirasi (Bandung: Mizan, 2006)
Sudarwan Danim, Menjadi Peneliti Kualitatif (Bandung: Pustaka Setia, 2002)
Sudarwan Danim, Menjadi Peneliti Kualitatif, hal. 209-210.
Sugiyono, Metode Penelitian Kuantitatif Kualitatif (Bandung: Alfabeta, 2010)
Suprapto, Metode Riset (Jakarta: Rineka Cipta, 2003)
Tim Departemen Agama RI, Pola Pengemabangan Pondok Pesantren (Jakarta: Direktorat Jenderal Kelembagaan Agama Islam, 2003)
Tim Dosen PAI, Bunga Rampai Penelitian dalam Pendidikan Agama Islam (Yogyakarta: Deepublish, 2016)
Zamakhsyari Dhofier, Tradisi Pesantren Studi Tentang Pandangan Hidup Kiyai(Jakarta: LP3ES, 1981).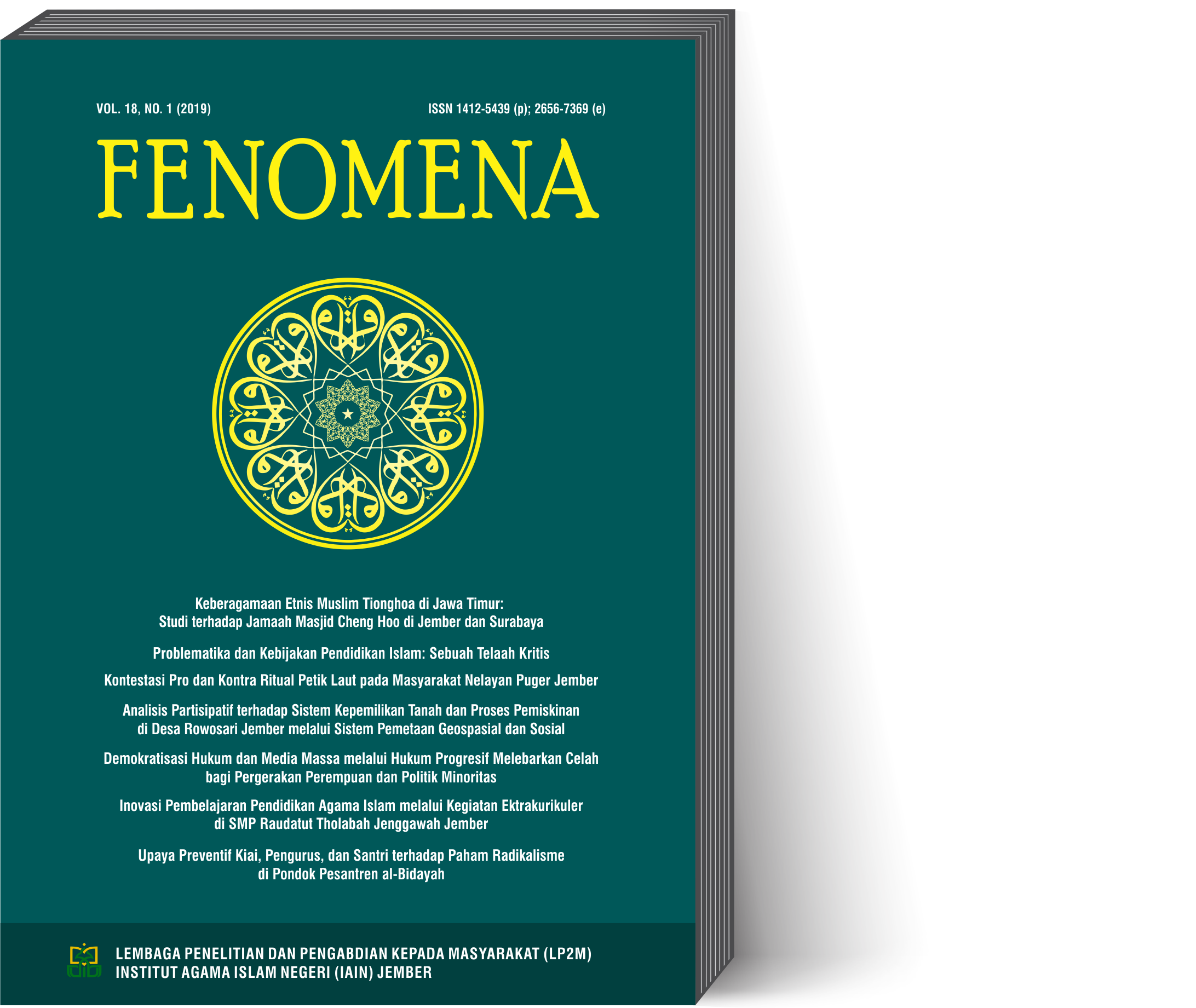 Downloads
How to Cite
Mursalim, Mursalim, and Hatta Hatta. 2019. "INOVASI PEMBELAJARAN PENDIDIKAN AGAMA ISLAM MELALUI KEGIATAN EKTRAKURIKULER DI SMP RAUDATUT THOLABAH JENGGAWAH JEMBER: Learning Innovation of Islamic Education through Extracurricular Activities at Raudatut Tholabah Junior High School Jenggawah Jember". Fenomena 18 (1):125 -48. https://doi.org/10.35719/fenomena.v18i1.24.
License
Copyright (c) 2019 Mursalim Mursalim, Hatta Hatta
This work is licensed under a Creative Commons Attribution-NonCommercial 4.0 International License.