IMPLIKASI PENDIDIKAN AQIDAH AKHLAK DALAM PENANGGULANGAN DAMPAK NEGATIF MEDIA ELEKTRONIK
Implications Of Moral Education In Overcoming The Negative Impact Of Electronic Media
Keywords:
Urgensi Pendidikan Aqidah Akhlak, Menanggulangi Dampak Negatif Me-dia Elektronik, The Urgency Of Moral Education, Tackling The Negative Impact Of Electronic Media
Abstract
Penggunaan media elektronik perlu pengawasan dari orang tua dan guru. Seorang anak harus diarahkan untuk mendapatkan pendidikan keagamaan. Untuk menanggulangi dampat negatif dari penggunaan media elektronik, maka pendidikan aqidah akhlaq harus diajarkan dan diamalkan. Mata pelajaran Aqidah Akhlaq di Madrasah Tsanawiyah Al-Mubarok Sumberpinang Pakusari Jember merupakan bagian integral dari pendidikan agama Islam, secara substansial mata pelajaran Aqidah dan Akhlaq memiliki kontribusi dalam memberikan motivasi kepada siswa untuk mempraktekkan nilai-nilai keyakinan keagamaan (tauhid) dan akhlakqul karimah dalam kehidupan sehari-hari. Tulisan ini meberikan kesimpulkan bahwa pendidikan aqidah akhlak memiliki peran yang sangat urgen dalam menanggulangi dampak negatif penggunaan media elektronik pada siswa MTs. Al-Mubarok Sumberpinang Pakusari Jember .
The use of electronic media needs supervision from parents and teachers. A child should be directed to get a religious education. To overcome the negative impact of electronic media, aqidah akhlaq education must be taught and practiced. Aqidah Akhlaq subjects in Madrasah Tsanawiyah Al-Mubarok Sumberpinang Pakusari Jember are an integral part of Islamic religious education substantially, Aqidah and Akhlaq subjects have contributed to motivating students to practice the values of religious belief (Tawhid) and akhlakqul karimah in everyday life. This paper concludes that aqidah akhlak education has a vital role in overcoming the negative impact of the use of electronic media on MTs students Al-Mubarok Sumberpinang Pakusari Jember.
Downloads
Download data is not yet available.
References
Arifin. Muzayyin. 2000. Ilmu Pendidikan Islam. Jakarta: Bumi Aksara.
Arsyad, Azhar, 2009, Media Pembelajaran, Jakarta: PT Raja Grafindo Persada.
Darwanto, ss., 2007, Televisi Sebagai Media Pendidikan, Yogyakarta: Pustaka.
Departemen Agama RI., 2006, Al-Qur'an Al-Karim dan Terjemahnya, Semarang: PT. Karya Toha Putra.
Depdikbud, 2001, Kamus Besar Bahasa Indonesia, Jakarta: Balai Pustaka.
Depdiknas, 2006, KTSP Ilmu Pelajaran Aqidah Akhlak Untuk Kelas II SMP/ Mts. Jakarta: Departemen Pendidikan Nasional.
Gunawan, Heri, 2013, Kurikulum dan Pembelajaran Pendidikan Agama Islam, Bandung : Alfabeta.
Hamalik, Oemar. 2003. Penerapan Belajar Mengajar. Bandung: CV Sinar Ba-ru.
Moleong, Lexy. J. 2010. Metodologi Penelitian Kualitatif. Bandung: Remaja Rosda Karya Offset.
Nazaruddin, Mgs. 2007. Manajemen Pembelajaran Implementasi Konsep. Karak-teristik Dan Metodologi Pendidikan Agama Islam di Sekolah Umum. Yogyakarta: Teras.
Sanjaya, 2008, Strategi Pembelajaran Berorientasi Standar Proses Pendidikan, Jakarta: Kencana Prenada Media Group.
Slameto, 2002. Proses Belajar Mengajar. Jakarta. Bumi Aksara.
Soma, Safari, 2005, Menanggulangi Remaja Kriminal, Islam sebagai Alternatif, Bogor: Bintang Tsurayya.
Sudjana Nana dan Ibrahim. 2001. Penelitian dan Penilaian pendidikan. Ban-dung: Sinar Baru Algensindo.
Sugiyono. 2008. Metode Penelitian Kuantitatif Dan Kualitatif Dan Reseach dan Development. Bandung: Alfabeta.
Tim Redaksi Kamus Bahasa Indonesia, 2008, Kamus Bahasa Indonesia, Ja-karta: Kamus Pusat Bahasa Departemen Pendidikan Nasional.
Usman, M. Basyiruddin danAsnawir, Media Pembelajaran, Jakarta: Delia Cit-ra Utama.
Undang Undang RI No. 20 Tahun 2003 tentang Sistem Pendidikan Nasional, 2011, Jakarta: Sinar Grafika.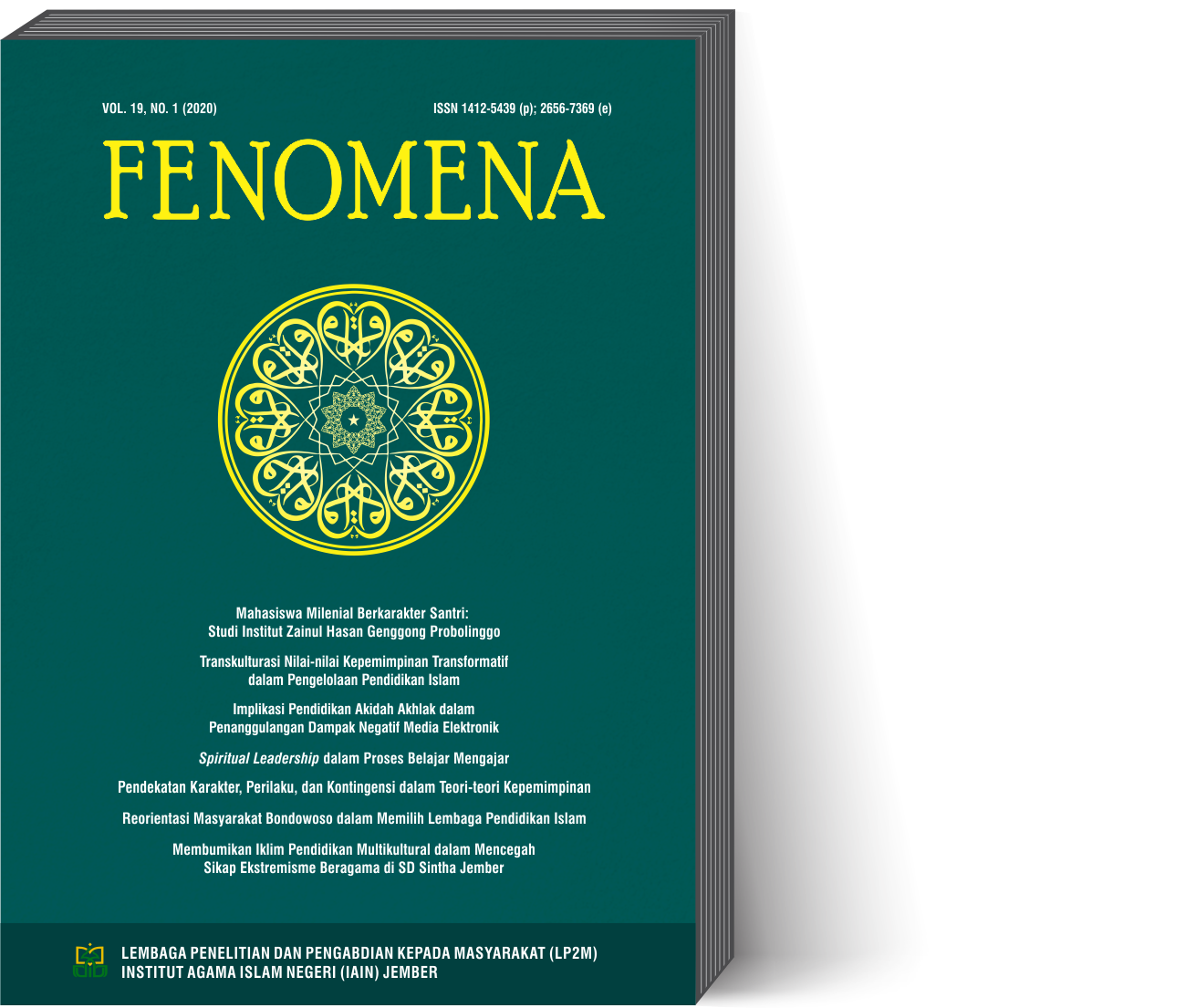 Downloads
How to Cite
Wafi, Ali, and Sobri Wasil. 2020. "IMPLIKASI PENDIDIKAN AQIDAH AKHLAK DALAM PENANGGULANGAN DAMPAK NEGATIF MEDIA ELEKTRONIK: Implications Of Moral Education In Overcoming The Negative Impact Of Electronic Media". Fenomena 19 (1):36 - 46. https://doi.org/10.35719/fenomena.v19i1.31.
License
Copyright (c) 2020 Ali Wafi, Sobri Wasil
This work is licensed under a Creative Commons Attribution-NonCommercial 4.0 International License.