MAHASISWA MILENIAL BERKARAKTER SANTRI (STUDI DI INSTITUT ZAINUL HASAN GENGGONG PROBOLINGGO)
Millennial Students With Santri Character (Study At Zainul Hasan Genggong Institute Probolinggo)
Keywords:
Millennial Students, Ethics and Santri
Abstract
Dewasa ini dalam dunia pendidikan, khususnya pendidikan yang ber "label" Islam dihadapkan pada tuntutan masyarakat yang menghendaki agar perguruan tinggi mampu menghasilkan output yang benar-benar berkualitas tinggi. Lulusan yang dikehendaki selain menguasai ilmu pengetahuan, skill, dan keterampilan yang dibutuhkan untuk kehidupan yang layak dan sejahtera, juga memiliki bekal pengetahuan agama, moral dan akhlak mulia, serta amal shaleh. Institute Zainul Hasan Genggong meupakan lembaga pendidikan tinggi yang berkarakter kepesantrenan. secara visioneri merupakan lembaga yang berkarakter kepesantrenan. Bertekad mencetak sosok intelektual yangmemiliki kedalaman spiritual, keagungan akhlak, keluasan ilmu, dan profesional. Penguasaan dimensi profan yang terwakili dengan penguasaan iptek, dan dimensi sacral yang diwakili iman dan taqwa adalah suatu yang tidak bisa ditawar lagi. Pesantren yang merupakan sub kultur dari pendidikan nasional secara budaya memiliki nilai-nilai yang kuat untuk bisa diartikulasikan melalui iklim organisasi perguruan tinggi. Oleh karenanya keberadaan pesantren menjadi partner yang ideal bagi pemerintah untuk bersama-sama meningkatkan mutu pendidikan sebagai basis bagi pelaksanaan transformasi sosial melalui penyediaan sumber daya manusia yang qualified dan berakhlakul karimah yang menekankan nilai-nilai religius moderat yang mencerminkan nilai Islam rahmatan lilalamin.
Today the world of education, especially education with the" label " of Islam, is faced with the demands of the community who want universities to be able to produce genuinely high-quality output. Graduates who are desired, in addition to mastering the science, skills, and skills needed for a decent and prosperous life, also have a provision of religious knowledge, morals and noble character, and righteous deeds. Institute Zainul Hasan Genggong is an institution of higher education with the nature of kepesantrenan. Visionary is an institution with the spirit of kepesantrenan. They are determined to print an intellectual figure with spiritual depth, moral grandeur, breadth of knowledge, and professionalism. The mastery of the profane dimension represented by the ability of science and technology and the sacral size represented by faith and taqwa is something that cannot be bargained for. Pesantren, a sub-culture of National Education, has strong values to be articulated through the organizational climate of higher education. Therefore, the existence of pesantren becomes an ideal partner for the government to jointly improve the quality of education as a basis for the implementation of social transformation through the provision of qualified and moral human resources that emphasize moderate religious values that reflect the value of Islam rahmatan lilalamin.
Downloads
Download data is not yet available.
References
Abdullah, Yatimin. Pengantar Studi Etika. (Jakarta: Raja Grafindo Persada, 2006)
Azra, Azyumardi, "Rekrutmen Anak Sekolah." Kamis, 28 April 2011, artikel diakses 7 Januari 2017 dari http://www. uinjkt. ac.id/index. php/section-blog/28-artikel/1912--rekrutmen-anak-sekolah.html.
Babun Suharto, Dari Pesantren Untuk Umat: Reiventing Eksistensi Pesantrendi Era Globalisasi (Surabaya: Imtiyaz, 2011 )
Dhofier, Zamakhsyari, Tradisi Pesanren (studi Pandangan Hidup Kyai dan Visinya mengenai masa depan Indonesia (Jakarta. LP3ES, anggota IKAPI, 2015)
Gunarsa, Singgih & Gunarsa, Yulia. Psikologi Praktis Anak, Remaja dan Keluarga. (Jakarta: Gunung Mulia, 2001)
Hartaji, Damar A. Motivasi Berprestasi Pada Mahasiswa yang Berkuliah Dengan Jurusan Pilihan Orangtua (Fakultas Psikologi Universitas Gunadarma, 2012)
Hidayat, Komaruddin, "Radikalisme Islam Menyusup ke SMU", artikel diakses 28 Januari 2017 dari http://www. uinjkt.ac.id/index.php/category-table/1091-radikalisme-islam-menyusup-ke-smu.html.
https://balitbangdiklat.kemenag.go.id
Jailani, Abdul Qadir, Peran Ulama dan Santri (Surabaya: Bina Ilmu, 1994)
Magnis, Franz, Suseno. Etika Dasar Masalah Masalah Pokok Filsafat Moral. (Yogyakarta: Kanisius, 1987)
Magnis, Franz, SusenoEtika Jawa Sebuah Analisis Falsafi Tentang Kebijakan Hidup Jawa. (Jakarta:Gramedia,1996)
Magnis,Franz, Suseno. Etika Jawa Sebuah Analisis Falsafi Tentang Kebijakan Hidup Jawa. (Jakarta:Gramedia,1996)
O, Louis, Kattsoff. Pengantar Filsafat. (Yogyakarta: Tiara Wacana Yogyakarta,1996)
Santrock, John W. Life Span Development. (Jakarta: Erlangga, 2002)
Siswoyo, Dwi. Ilmu Pendidikan (Yogyakarta: UNY Press, 2007)
Yusuf, Syamsu. Psikologi Perkembangan Anak dan Remaja. (Bandung: Remaja Rosdakarya. 2012)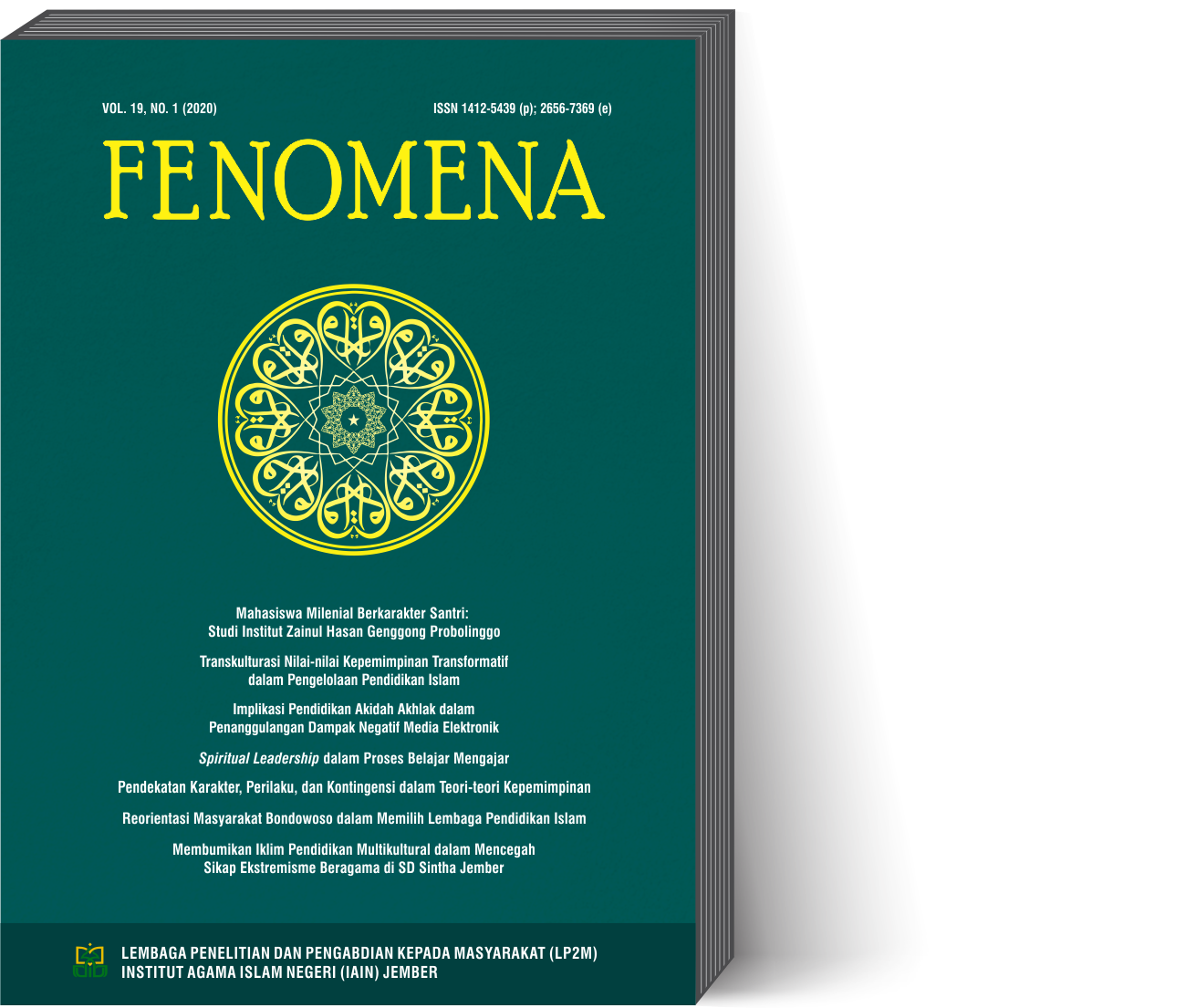 Downloads
How to Cite
Qosim, Nanang, and Abdul Hamid. 2020. "MAHASISWA MILENIAL BERKARAKTER SANTRI (STUDI DI INSTITUT ZAINUL HASAN GENGGONG PROBOLINGGO): Millennial Students With Santri Character (Study At Zainul Hasan Genggong Institute Probolinggo)". Fenomena 19 (1):64 - 72. https://doi.org/10.35719/fenomena.v19i1.33.
License
Copyright (c) 2020 Nanang Qosim, Abdul Hamid
This work is licensed under a Creative Commons Attribution-NonCommercial 4.0 International License.