TEORI-TEORI KEPEMIMPINAN
Leadership Theories
Keywords:
pendekatan karakter, pendekatan perilaku, pendekatan kontingensi, character approach, behavioral approach, contingency approach
Abstract
Teori-teori dalam kepemimpinan diantaranya adalah pendekatan karakter (Trait Approaches), pendekatan perilaku (Style Approaches), pendekatan kontingensi (Contingency Approaches), teori kepemimpinan transaksional an teori kepemimpinan transformasional. Selain itu, teori kontingensi yang dikemukakan oleh Fiedler, Yukl juga mengemukakan bahwa perilaku pemimpin dapat meningkatkan kinerja kelompok karna dapat mempengaruhi variable intervening (usaha dan kerja tim) yang dapat mempengaruhi kinerja kelompok. Sedangkan Teori Vroom dan Yetton mengemukakan bahwa kepuasan dan prestasi disebabkan oleh perilaku bawahan yang pada gilirannya dipengaruhi oleh perilaku atasan, karakteristik dan faktor lingkungan.
Theories in leadership include character approaches (Trait Approaches), behavioral approaches (Style Approaches), contingency Approaches, transactional leadership theories, and transformational leadership theories. In addition, the contingency theory proposed by Fiedler and Yukl also suggested that the behavior of leaders can improve group performance because it can affect the intervening variables (effort and teamwork) that can affect group performance. While the theory of Vroom and Yetton suggested that satisfaction and achievement are caused by subordinate behavior, which in turn is influenced by exemplary behavior, characteristics, and environmental factors.
Downloads
Download data is not yet available.
References
Amirullah. 2015. Pengantar Manajemen. Jakarta: Mitra Wacana Media
Danim, Sudarwan dan Suparno. 2009. Managemen dan Kepemimpinan Transformasional Kepala Sekolah: Visi dan Strategi Sukses Era Tehnologi, Situasi Krisis, dan Internalisasi Pendidikan. Jakarta: Renika Cipta
Daft, L Richard. 2011. Era Baru Manajemen.Edisi ke 9. Diterjemahkan oleh: Tita Maria Kanita. Jakarta: Salemba Empat
Khusnuridlo. 2017. Leadership. Jember : Pascasarjana IAIN Jember (Materi slide)
Marno dan Triyo Supriyatno. 2008. Manajemen dan Kepemimpinan Pendidikan Islam. Bandung: Refika Aditama
Mulyasa. 2004. Manajemen Berbasis Sekolah: Konsep, Strategi, dan Implementasi. Bandung: PT. Remaja Rosdakarya
Rivai, Veithzal dan Sylviana Murni. 2012. Education Management: Analisis Teori dan Praktek. Jakarta: Rajawali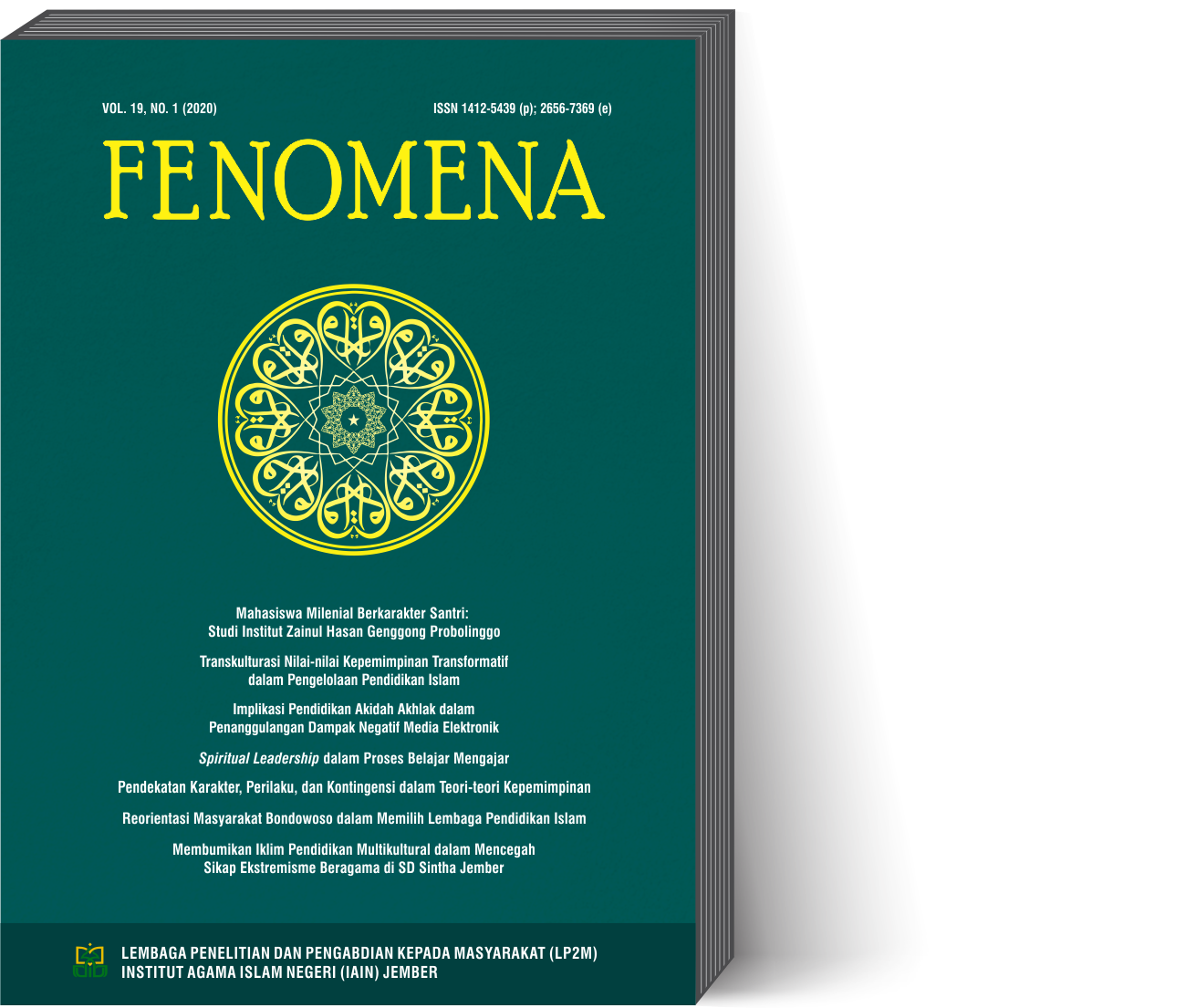 Downloads
How to Cite
Ghufron, Ghufron. 2020. "TEORI-TEORI KEPEMIMPINAN: Leadership Theories". Fenomena 19 (1):73 - 79. https://doi.org/10.35719/fenomena.v19i1.34.
License
Copyright (c) 2020 Ghufron Ghufron
This work is licensed under a Creative Commons Attribution-NonCommercial 4.0 International License.