MODEL PENGEMBANGAN MUTU SUMBERDAYA GURU LEMBAGA PENDIDIKAN ISLAM
Model Of Teacher Resource Quality Development Of Islamic Educational Institutions
Keywords:
Lembaga pendidikan Islam, kualitas guru, proses belajar dan pengajaran, MAN 3 Jember , Islamic education institutions, teacher quality, learning and teaching process, State Islamic High School 3 Jember
Abstract
Pada zaman era globalisasi lembaga pendidikan Islam harus lebih menekankan pada kualitas sumber daya manusianya karena guru adalah salah satu komponen utama bagi keberhasilan proses belajar mengajar di sekolah. Mutu sekolah, khususnya mutu anak didik, mau tak mau berkaitan dengan mutu guru-gurunya yang langsung terlibat  dengan anak didik di kelas. Namun, pada kenyataannya, terdapat banyak keluhkan tentang kualitas guru khususnya di lembaga pendidikan Islam. Oleh karena itu, perlu adanya strategi yang komprehensif bagi guru menjadi tenaga pendidik yang berkualitas, profesional, berkomitmen serta memiliki semangat ibadah. Penelitian ini fokus mengkaji strategi pengembangan mutu guru MAN 3 Jember. Kajian penelitian ini menggunakan perspektif fenomenologis terhadap studi kasus. Hasil penelitian ini adalah bahwa untuk mengembangkan kualitas guru, para pimpinan MAN 3 Jember perlu (1) untuk membuat, menyusun, dan merumuskan visi, misi, dan tujuan lembaga khususnya pengembangan mutu guru; (2) untuk membangun komitmen yang bernilai ibadah; (3) untuk membangun sikap dan kedisiplinan; (4) untuk merubah pola pikir dan untuk membangun karakter positif guru.
In the era of globalization, Islamic educational institutions have to emphasize the quality of their human resources. The teacher is one of the main characters in the success of the teaching and learning process. The quality of schools, especially the student quality, is inevitably related to the teachers concerned with the students in the classroom. However, there are many complaints about teacher quality, especially in Islamic educational institutions. Therefore, it is necessary to have a comprehensive strategy for teachers to become qualified, professional, committed educators who have the spirit of worship. This study focuses on assessing teacher quality development strategies in MAN 3 Jember. This study uses a phenomenological perspective on a case study. As a result, developing teacher quality in MAN 3 Jember is (1) compiling, compiling, and formulating the vision, mission, and objectives of the institution, to realize teacher quality; (2) building a commitment that has worship values; (3) building attitude and discipline; (4) changing the mindset also building the positive character of the teacher.
Downloads
Download data is not yet available.
References
Aduweisy, Muhammad Abdullah. 2007. Menjadi Guru yang Sukses dan Berpengaruh. Surabaya: Elba.
Amidjaja dan Tisna. 2002. Pola Pembaharuan Sistem Tenaga Kependidikan. Jakarta: DEPDIKBUD.
Alwi, Mohammad. 2007. Pegembangan Profesionalisme Guru. Bandung: Diponegoro.
Aqib, Zaenal. 2002. Profesionalisme Guru dalam Pembelajaran. Surabaya: Cendikia.
Asiyanto. 2005. Manajemen Produksi untuk jasa produksi. Jakarta: Pradnya Paramita.
Bafadhal, Ibrahim. 2006. Peningkatan Proesional Guru Sekolah Dasar Dalam Kerangka Manajemen Peningkatan Mutu Berbasis Sekolah. Jakarta: Bumi Aksara.
Burhanuddin dkk. 2004. Manajemen Pendidikan. Malang: Universitas Negeri Malang.
Direktorat Pendidikan. 2007. Modul Perencanaan Lembaga. Direktorat Pendidikan: Jakarta
Gasperesz, Vicent, 2013. All In One Intregeted Total Quality, Talent Management, 50 Concepts, Models and Key Analyses in Total Quality, Practical Human Capital, And Talent Managament Sistem. (Jakarta: Publishing)
Kunandar. 2007. Guru Profesional. Jakarta: Raja Grafindo Persada.
Miles, Huberman. 2002. Analisis Data Kualitatif Buku Sumber tentang Metode-metode Baru. Jakarta: UI Press.
Raharjo, Budi. 2009. Biografi Ki Hajar Dewantoro. Jogjakarta: Arruz Media
Peraturan Pemerintah Nomor 23 Tahun 2013 tentang standar Nasional Pendidikan, Permata press.
S. Arcaro, Jerome. 2007. Pendidikan Berbasis Mutu: Prinsip-Prinsip Perumusan dan Tata Langkah Penerapan, Terj. Yosal Irianta. Yogyakarta: Pustaka Pelajar.
Sallis, Edward. 2006. Total Quality Management in Education: Manajemen Mutu Pendidikan, Terj. Ahmad Ali Riyadi dan Fahrurrazi. Yogyakarta: IRCISOD.
Sukmadinata, Nana Syaodih. 2010. Metode Penelitian Pendidikan. Bandung: Remaja Rosdakarya.
Undang-Undang No. 20 Tahun 2003, tentang Sistem Pendidikan Nasional. Jakarta: Depdiknas.
Uwes S. 2009. Majemen Pengembangan Mutu Dosen. Jakarta: Logos Wacana Ilmu.
Winoto, Suhadi. 2011. Manajemen Berbasis Sekolah. Jember: Pena Salsabila.
Djamarah, Syaiful Bahri. 2004. Prestasi Belajar dan Kompetensi Guru. Surabaya: Usaha Nasional.
Hamalik, Oemar. 2004. Proses Belajar Mengajar. Jakarta: Bumi Aksara.
Hidayati, Titiek Rohanah. 2009. Perencanaan Pembelajaran. Jember: CSS.
Mulyasa. 2005. Menjadi Profesional Menciptakan Pembelajaran Kreatif dan Menyenangkan. Bandung: PT: Remaja Rosdakarya.
Nurdin, Muhammad. 2004. Kiat Guru Profesional. Yokyakarta: Ar-Ruzz Media.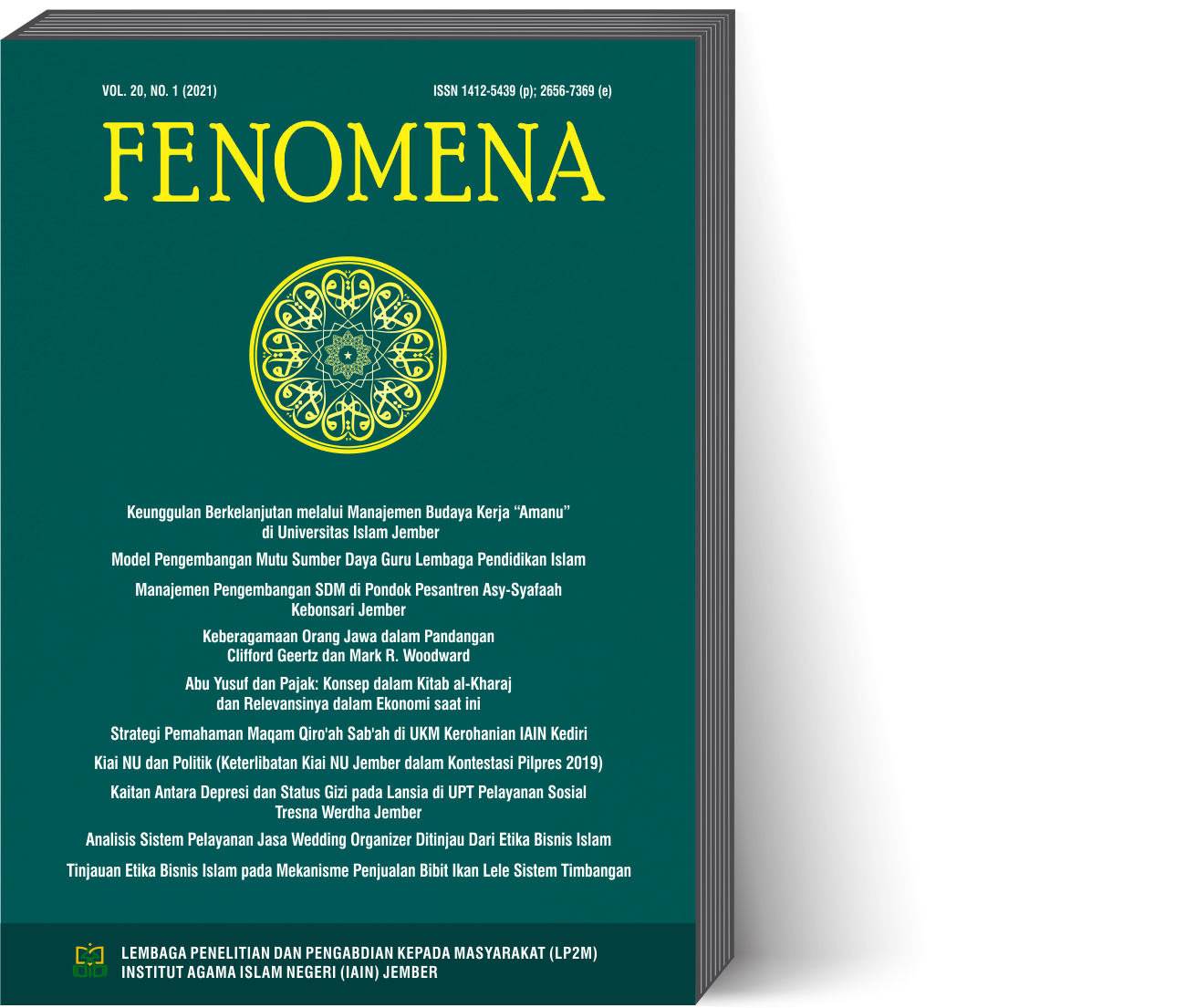 Downloads
How to Cite
Zuhri, I Mustofa. 2021. "MODEL PENGEMBANGAN MUTU SUMBERDAYA GURU LEMBAGA PENDIDIKAN ISLAM: Model Of Teacher Resource Quality Development Of Islamic Educational Institutions". Fenomena 20 (1):19 - 32. https://doi.org/10.35719/fenomena.v20i1.44.
License
Copyright (c) 2021 I Mustofa Zuhri
This work is licensed under a Creative Commons Attribution-NonCommercial 4.0 International License.