MANAJEMEN PENGEMBANGAN SDM DI PONDOK PESANTREN AS-SYAFAAH KEBONSARI JEMBER
Human Resource Development Management At As-Syafaah Islamic Boarding School Kebonsari Jember
Keywords:
management, human resources, pesantren
Abstract
Tujuan dari penelitian ini adalah untuk mendeskripsikan perencanaan, pelaksanaan dan evaluasi pengembangan sumber daya manusia di Pondok Pesantren As-Syafaah. Penelitian ini menggunakan pendekatan kualitatif dengan desain studi kasus. Bentuk data dalam penelitian ini adalah data primer dan data sekunder yang diperoleh dari informan dan dokumen pendukung. Analisis data dilakukan dalam beberapa tahap menurut teori Miles, Huberman dan Saldana, yaitu kondensasi data, penyajian data, dan penarikan kesimpulan atau verifikasi. Hasil penelitian menunjukkan bahwa (1) analisis kebutuhan pengembangan sumber daya manusia analisis kualitas dan kuantitas, (2) pelaksanaan pengembangan sumber daya manusia dilakukan melalui rekrutmen, program pendidikan dan pelatihan, dan pembentukan budaya pesantren; (3) evaluasi pengembangan sumber daya manusia dititikberatkan pada perubahan sikap dan perilaku dalam menjalankan peran dan tanggung jawab.
The aim is to describe the planning, implementation, and evaluation of human resource development at As-syafaah Islamic boarding school. This study used a qualitative approach with a case study design. The form of data in this study is primary and secondary data obtained from informants and supporting documents. Data analysis is carried out in several steps according to Miles, Huberman, and Saldana's theory, which are data condensation, data display, and drawing conclusions or verification (conclusion drawing and validation). The results show that (1) analysis of human resource development needs quality and quantity analysis, (2) implementation of human resource development is carried out through recruitment, education, and training programs, and the formation of Islamic boarding school culture; (3) evaluation of human resource development is emphasized on changing attitudes and behaviors in carrying out roles and responsibilities.
Downloads
Download data is not yet available.
References
Bull, R. A. L. (1977). A Peaceful Juhad : Javanes education dan religion identity construction. Michigan: Arizona State University.
Dhofier, Z. (1982). Tradisi Pesantren: Studi tentang pandangan hidup Kyai. Jakarta: LP3ES.
Fatoni, S. (2006). Peradaban Islam; Desain awal peradaban, konsolidasi teologi, konstruk pemikiran dan pencarian madrasah. Jakarta: eLSAS.
Hasibuan, M. S. P. (2001). Manajemen Sumber Daya Manusia. Jakarta: Bumi Aksara.
Indonesia, P. R. (2003). Undang-Undang Nomor 20 Tahun 2003 Tentang Sisdiknas. Retrieved January 16, 2020, from https://kelembagaan.ristekdikti.go.id/wp-content/uploads/2016/08/UU_no_20_th_2003.pdf
Koentjaraningrat. (1976). Kebudayaan, Mentalitet dan Pembangunan. Jakarta: Gramedia Pustaka Utama.
Mastuhu. (1994). Dinamika Sistem Pendidikan Pesantren. Jakarta: INIS.
Mondy, R. W. (2008). Human Resource Management. New Jersey: Pearson Education.
Nurdin, D. (2007). Manajemen Pendidikan dalam Ilmu dan Aplikasi Pendidikan bagian II : Ilmu pendidikan praktis. Bandung: IMTIMA.
Presiden Republik Indonesia. (2007). Peraturan Pemerintah Republik Indonesia Nomor 55 Tahun 2007. Retrieved January 16, 2020, from https://kelembagaan.ristekdikti.go.id/wp-content/uploads/2016/08/PP_55_2007-Pendidikan-Agama-Keagamaan.pdf
Presiden Republik Indonesia. (2019). Undang-undang No. 18 Tahun 2019 Tentang Pesantren. Retrieved January 16, 2020, from https://m.hukumonline.com/pusatdata/detail/lt5dae6ed07247f/node/lt5c5c06acb22b1/uu-no-18-tahun-2019-pesantren#
Qomar, M. (2007). Pesantren dari Transformasi Metodologi Menuju Demokratisasi Institusi. Jakarta: Erlangga.
Raharjo, D. (1995). Pesantren dan Pembaharuan. Jakarta: LP3ES.
Robbins, S. P., & Judge, T. A. (2008). Perilaku Organisasi Buku 2. Jakarta: Salemba Empat.
Siagian, S. P. (2003). Filsafat Administrasi. Jakarta: Bumi Aksara.
Steenbrink, K. A. (1994). Pesantren Madrasah Sekolah, Pendidikan Islam dalam Kurun Modern. Jakarta: LP3ES.
Suharto, E. (2006). Membangun Masyarakat Memperdayakan Rakyat. Bandung: Rafika Media.
Terry, G. R. (1992). Dasar-dasar Manajemen. Jakarta: Bumi Aksara.
Tunggal, A. W. (2002). Manajemen: Suatu pengantar. Jakarta: Rineka Cipta.
Wahid, A. (1984). Bunga Rampai Pesantren: Kumpulan karya tulis. Jakarta: Dharma Bhakti.
Zarkasyi, A. F. (1998). Pondok Pesantren Sebagai Lembaga Pendidikan dan Dakwah. In Solusi Islam atas Problematika Umat. Jakarta: Gema Insani Press.
Ziemek, M. (n.d.). Pesantren dan Perubahan Sosial. Jakarta: P3M.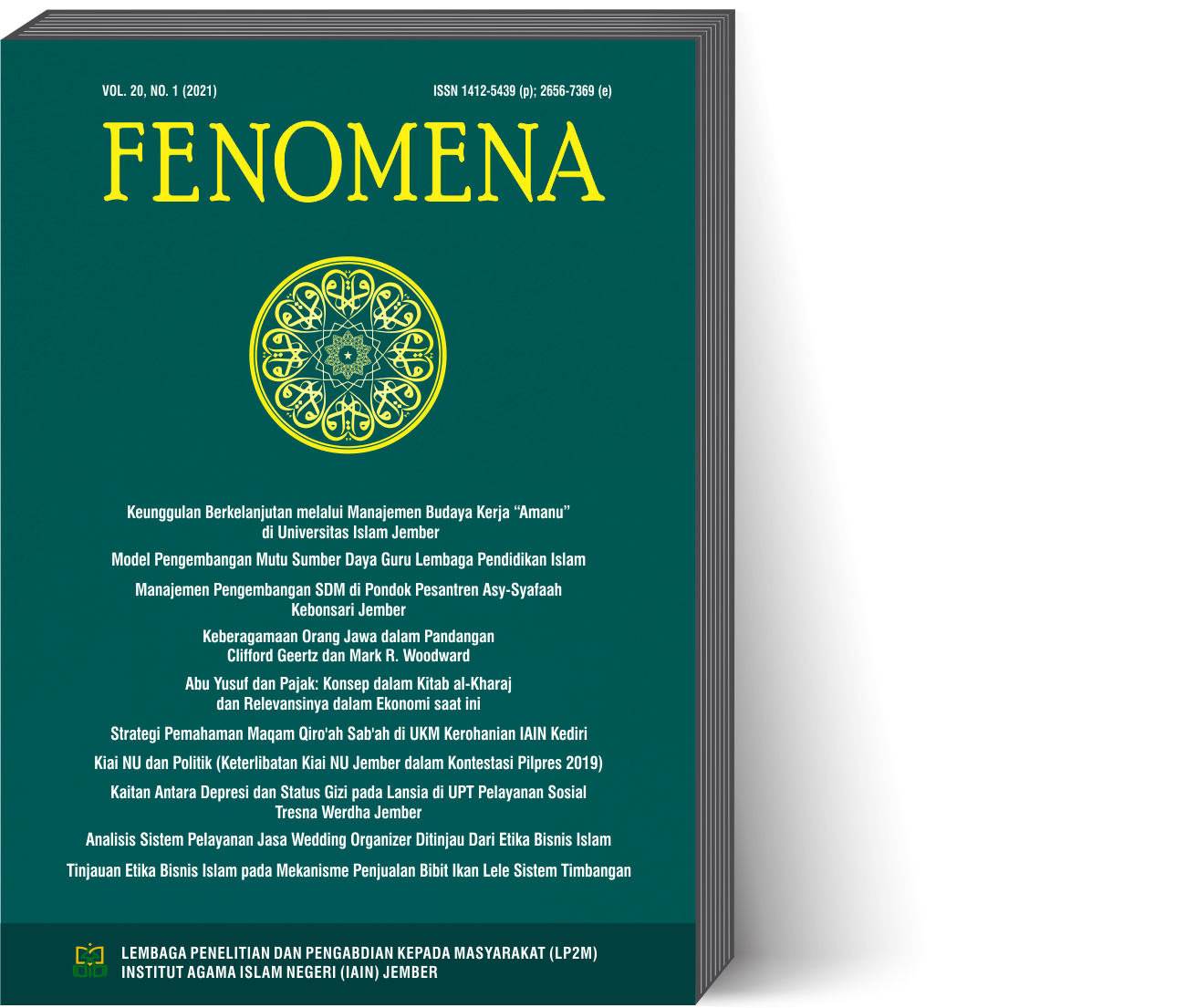 Downloads
How to Cite
Mu'is, Abdul. 2021. "MANAJEMEN PENGEMBANGAN SDM DI PONDOK PESANTREN AS-SYAFAAH KEBONSARI JEMBER: Human Resource Development Management At As-Syafaah Islamic Boarding School Kebonsari Jember". Fenomena 20 (1):33 - 44. https://doi.org/10.35719/fenomena.v20i1.45.
License
Copyright (c) 2021 Abdul Mu'is
This work is licensed under a Creative Commons Attribution-NonCommercial 4.0 International License.