STRATEGI PEMAHAMAN MAQAM QIRO'AH SAB'AH DI UKM KEROHANIAN IAIN KEDIRI
Understanding Strategy Maqam Qiro'ah Sab'ah In UKM Spirituality IAIN Kediri
Keywords:
Maqam, Qiro'ah Sab'ah, Spirituality, Recitation
Abstract
Qira'ah Sab'ah jika dikaitkan dengan ayat-ayat Al-Qur'an, maka sangat erat kaitannya. Jadi dengan adanya maqam-maqam Qira'ah Sab'ah, ayat-ayat Al-Qur'an dapat dilantunkan dengan berbagai macam lagu. Dengan adanya pelatihan dan bimbingan khusus diharapkan dapat membawa peningkatan pemahaman peserta pada maqom Qiro'ah Sab'ah. Pendekatan yang digunakan adalah pendekatan kualitatif dikarenakan penelitian bersifat induktif, berdasarkan pembelajaran tertentu dan kemudian dapat digunakan dalam pembelajaran serupa. Penyampaian maqam Qiro'ah Sab'ah. Dalam pelatihan tilawah, penyampaian Qiro'ah Sab'ah dilakukan oleh pelatih tilawah melalui proses latihan rutinan tilawah. Usaha untuk mempermudah menghafal maqam Qiro'ah Sab'ah yang diajarkan sebelumnya, maka peserta mencatat dengan menggaris bawahi ayat al-Qur'an dan ditulis jenis maqam yang digunakan disamping ayat al-Qur'an tersebut, kemudian mereka juga merekam suara lantunan ayat al-Qur'an yang disampaikan oleh pelatih tilawah. Pelaksanaan olah vokal pada pelatihan olah vokal, yakni dengan dibentuk kelompok-kelompok kecil terlebih dahulu, kemudian mereka menjawab jenis dari kelompok terkait maqom yang diujikan oleh pelatih. Terkait metode demonstrasi yang digunakan dalam pelatihan tilawah diawali dengan latihan melantunkan ayat al-Qur'an dengan menggunakan berbagai macam maqom qiro'ah sab'ah baru kemudian peserta tilawah menirukan ayat al-Qur'an yang dilantunkan oleh pelatih dengan menggunakan maqom Qiro'ah Sab'ah.
 Qira'ah Sab'ah, if it is related to the verses of the Al-Qur'an, is very closely related. So with the existence of maqam-maqam Qira'ah Sab'ah, the poetry of the Al-Qur'an can be sung with various kinds of songs. With special training and guidance, it is hoped that it can increase participants' understanding of maqom Qiro'ah Sab'ah. The approach is qualitative because the research is inductive, based on specific learning, and can be used in similar education. In tilawah training, the delivery of Qiro'ah Sab'ah is carried out by the recitation trainer through the process of practicing the recitation routine. To make it easier to memorize the maqam Qiro'ah Sab'ah that was taught previously, the participants took notes by underlining the verses of the Koran and writing the type of maqam used in addition to the verses of the Koran. Then they also recorded the sound of the chanting of the verse al. -The Qur'an conveyed by the recitation coach. The implementation of vocal processing in vocal training, namely by forming small groups first, then they answer the types of groups related to the maqom tested by the trainer. Regarding the demonstration method used in recitation training, it begins with the practice of chanting the verses of the Koran using various kinds of maqom qiro'ah sab'ah; then, the recitation participants mimic the verses of the Qur'an chanted by the trainer using the maqom Qiro'ah Sab'ah.
Downloads
Download data is not yet available.
References
Al-Qattan, Manna' Khalil. Studi Ilmu-Ilmu Qur'an. Bogor: Pustaka Litera AntarNusa, 2012.
Anggara, Prasticia Dwi. "Implementasi Penelitian Kualitatif." Universitas Gajah Mada, 2015.
Anwar, Rosihon. Ulum Al-Qur'an. Bandung: Pustaka Setia, 2015.
Ash-Shabuni, Syekh Muhammad Ali. Ikhtisar Ulumul Qur'an Praktis. Jakarta: Pustaka Amani, 2001.
Fathurrohman, Pupuh; Sutikno, Sobry. Strategi Belajar Mengajar. Bandung: Refika Aditama, 2009.
Sunendar, Iskandar Wassid; Dadang. Strategi Pembelajaran Bahasa. Bandung: Remaja Rosdakarya, 2009.
Surur, Agus Miftakus; Mahmudah, Siti; Khasanah, Siti Nur. "Integrasi Ilmu Agama Dengan Ilmu Umum Untuk Menghadapi Era Globalisasi." Iqra' III, no. 1 (2018).
Surur, Agus Miftakus; Rahmawati, Aullia. "Organisasi Luar Sekolah Untuk Peningkatan Karakter (Studi Kasus Di IPNU IPPNU Ranting Ngreco Kota Kediri)." Ta'dib VII, no. 1 (2018).
Surur, Agus Miftakus; Rais, Pandi; Habib. "The Application Program of the Preparation of the Syllabus and Learning Implementation Plan (RPP) 2013 Curriculum on Teachers Madrasah Ibtidaiyah." Proceeding International Conference on Islamic Education (ICIED) "Innovations, Approaches, Challenges, and THE Future" 2 (2017).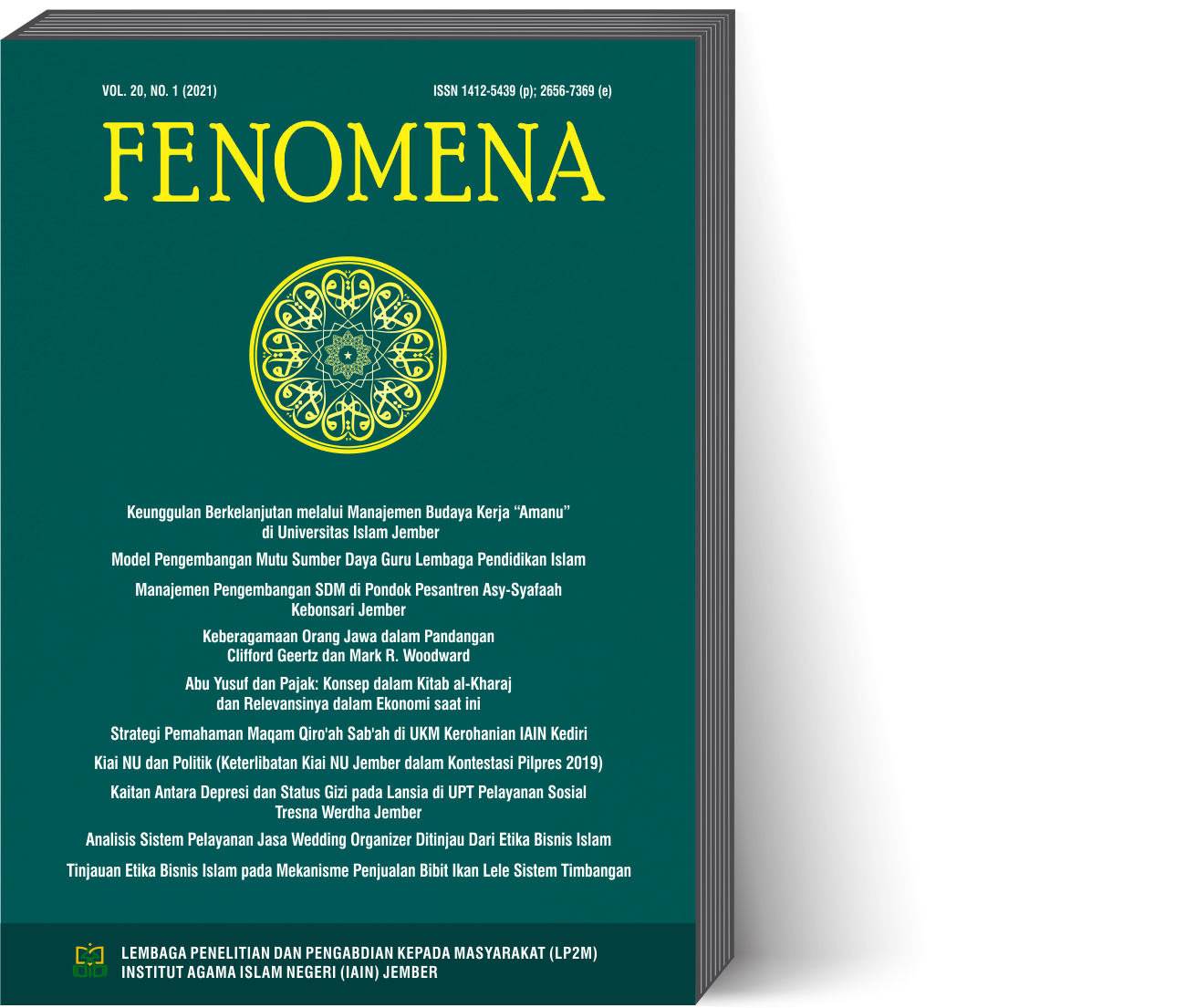 Downloads
How to Cite
Muttaqin, Moh. Nasrul, and Agus Miftakus Surur; dkk. 2021. "STRATEGI PEMAHAMAN MAQAM QIRO'AH SAB'AH DI UKM KEROHANIAN IAIN KEDIRI: Understanding Strategy Maqam Qiro'ah Sab'ah In UKM Spirituality IAIN Kediri". Fenomena 20 (1):77 - 90. https://doi.org/10.35719/fenomena.v20i1.50.
License
Copyright (c) 2021 Moh. Nasrul Muttaqin, Agus Miftakus Surur; dkk
This work is licensed under a Creative Commons Attribution-NonCommercial 4.0 International License.