KIAI NU DAN POLITIK (KETERLIBATAN KIAI NU JEMBER DALAM KONTESTASI PILPRES 2019)
Kiai NU And Politics (Involvement Of Kiai NU Jember In Presidential Election Contestation 2019)
Keywords:
Kiai, Politic, NU
Abstract
Kajian tentang dinamika dan kiprah politik kiai selalu menarik untuk terus dikaji dari berbagai sudut pandang berbeda. Pada kontestasi Pilpres 2019, beberapa kiai NU struktural maupun non struktural di Jember terlibat aktif dalam memenangkan pasangan calon no urut 1, Jokowi dan Ma'ruf Amin. Penelitian ini ingin mengungkap makna politik dalam perpsektif kiai NU Jember, serta motivasi dan bentuk keterlibatan mereka dalam kontestasi politik praktis (Pilpres 2019). Penelitian ini dilakukan dengan menggunakan pendekatan kualitatif. Secara operasional penggalian data dalam peneilitian ini dilakukan dengan cara pengamatan, wawancara mendalam terhadap para informan yang sudah ditetapkan, dan dokumentasi. Data yang didapatkan setelah itu dianalisa melalui dua tahap, yaitu selama proses pengumpulan data di lapangan dan setelah data tersebut terkumpul dengan langkah; 1) reduksi data, 2) penyajian data, dan 3) penarikan kesimpulan. Hasil penelitian ini menunjukkan bahwa 1) Mayoritas kiai NU Jember memaknai politik sebagai perjuangan untuk mewujudkan kemashlahatan umat. Politik juga dimaknai dengan upaya untuk menjaga aqidah umat dari faham atau ideologi yang berseberangan dengan NU. 2) Ada dua motivasi yang mendorong keterlibatan kiai NU Jember dalam politik praktis, yaitu orientasi dakwah dan orientasi ideologis. 3) Bentuk keterlibatan kiai NU dalam politik praktis (Pilpres 2019) di Kabupaten Jember dilakukan dengan beberapa cara, diantaranya memberikan dukungan melalui edaran/maklumat, konsolidasi sesama kiai dan instruksi secara langsung kepada para santri, wali santri, dewan guru/asatidz, alumni dan simpatisan pesantren.
The dynamics and political work of the Kiai are always interesting to be studied from various points of view. In the 2019 presidential election contest, several structural and non-structural NU Kiai in Jember were actively involved in winning candidate pair number 1, Jokowi and Ma'ruf Amin. This research intends to reveal the political meaning from the perspective of the Kiai NU Jember, as well as their motives and forms of involvement in practical political contestation (Pilpres 2019). This research was conducted using a qualitative approach. Operationally the data mining in this research was carried out through observation, in-depth interviews with the informants assigned, and documentation. The data obtained after that were analyzed in two stages, namely during the data collection process in the field and after the data was collected by steps; 1) data reduction, 2) data presentation, and 3) conclusion. The results of this study indicate that 1) Most NU Jember Kiai interpret politics as a struggle to achieve the benefit of the people. Politics is also interpreted as an effort to protect the aqidah of the people from opposing ideologies or ideologies. 2) two motivations encourage the involvement of the Jember NU Kiai in practical politics, namely dakwah orientation and ideological orientation. 3) The form of involvement of NU Kiai in practical politics (2019 Presidential Election) in Jember Regency is carried out in several ways, including providing support through circulars/announcements, consolidation of fellow Kiai, and direct instruction to students, guardians of santri, a board of teachers/asatidz, alumni and pesantren sympathizers.
Downloads
Download data is not yet available.
References
Anam, Choirul. Pertumbuhan dan Perkembangan Nahdlatul Ulama. Surabaya: Bisma Satu Printing, 1999.
Azizah, Nurul. Artikulasi Politik Santri: Dari Kyai Menjadi Bupati. Jember: STAIN Jember Press, 2013.
Dhofier, Zamakhsyari. Tradisi Pesantren: Studi tentang Pandangan Hidup Kyai. Jakarta: LP3ES, 1985.
Echols, John M. Kamus Inggris Indonesia. Jakarta: Gramedia, 1981.
Feillard, Andree. Gus Dur, NU, dan Masyarakat Sipil. Yogyakarta: LKiS, 1997.
Haris, Abdul, dkk. "Pergeseran Perilaku Politik Kultural Nahdlatul Ulama (NU) di Era Multi Partai Pasca Orde Baru Studi Kasus NU Jember Jawa Timur." Istiqro', Vol. 2, No. 01 (2003).
J. Clifford, "Introduction: Patrial Truths", dalam J. Clifford and Marcus, G.E (ed.), Writing Culture: The Poetics anda Politics of Ethnocgraphy. Berkeley: University of California Press, 1986.
Karim, A.Gaffar. Metamorfosis: NU dan Politisasi Islam di Indonesia. Yogyakarta: LKiS, 1995.
Khallaf, Abdul Wahab. Al-Siyasah al-Syari'ah. Kairo: Daral Ansar, 1997.
Mahfudh, Sahal. Nuansa Fiqih Sosial. Yogyakarta: LKiS, 1994.
Miles, M. B dan Huberman, A.M, Qualitative Data Analysis (terjz). Tjetjep Rohendi Rohidi. Jakarta: UI Press, 1994.
Moloeng, Lexy J. Metode Penelitian Kualitatif. Bandung: PT. Remaja Rosdakarya, 2002.
Muhibbin. Politik Kiai vs Politik Rakyat. Yogyakarta: Pustaka Pelajar, 2012.
Muhtadi, Asep Saeful. Komunikasi Politik Nahdlatul Ulama: Pergulatan Pemikiran Politik Radikal dan Akomodatif. Jakarta: LP3ES, 2004.
Mulkhan, Abdul Munir. Politik Santri: Cara Merebut Hati Rakyat. Yogyakarta: Kanisius, 2009.
Muzadi, Abdul Muhith. "Masa-masa Ujian Berat bagi NU." Aula, No.11, Nopember (1995).
Nazir, Moh. Metode Penelitian. Ghalia Indonesia, 2017.
Norman K. Denzin dan Yvonna S. Lincoln, Handbook of Qualitative Research, 9th Edition. London: Sage Publication, 2000.
Patoni, Achmad. Peran Kiai Pesantren Dalam Partai Politik. Yogyakarta: Pustaka Pelajar, 2007.
Purwodarmino, Kamus Umum Bahasa Indonesia. Jakarta: Balai Pustaka, 1990.
Rahman, Fathor. Mengembalikan NU ke Ranah Politik Praktis. Jember: LTN NU Jember, 2016.
_______. Singgasana Politik Kiai Madura. Jember: STAIN Jember Press, 2013.
Salim, Abdul Mu'in. Fiqh Siyasah: Konsepsi Kekuasaan Politik Dalam Al-Qur'an. Jakarta: Raja Grafindo Persada, 1994.
Turmudi, Endang. Perselingkuhan Kiai Dan Kekuasaan (Yogyakarta: LKiS, 2004).
Wahid, Salahuddin. Menggagas Peran Politik NU. Jakarta : Pustaka Indonesia Satu, 2002.
Warid, Ahmad. "Fiqih Politik NU; Studi Pergeseran dari Politik Kebangsaan ke Politik Kekuasaan." al-Syir'ah, Vol. 1 (2009).
Yusuf, Slamet Effendi. Dinamika Kaum Santri. Jakarta: Radjawali Press, 1985.
Zada, A. Khamami. Nahdlatul Ulama: Dinamika Ideologi dan Politik Kenegaraan. Jakarta: PT Kompas Media Nusantara, 2010.
Zahro, Ahmad. Tradisi Intelektual NU: Lajnah Bahtsul Masa'il 1926-1999. Yogyakarta: LKiS Pelangi Aksara, 2004.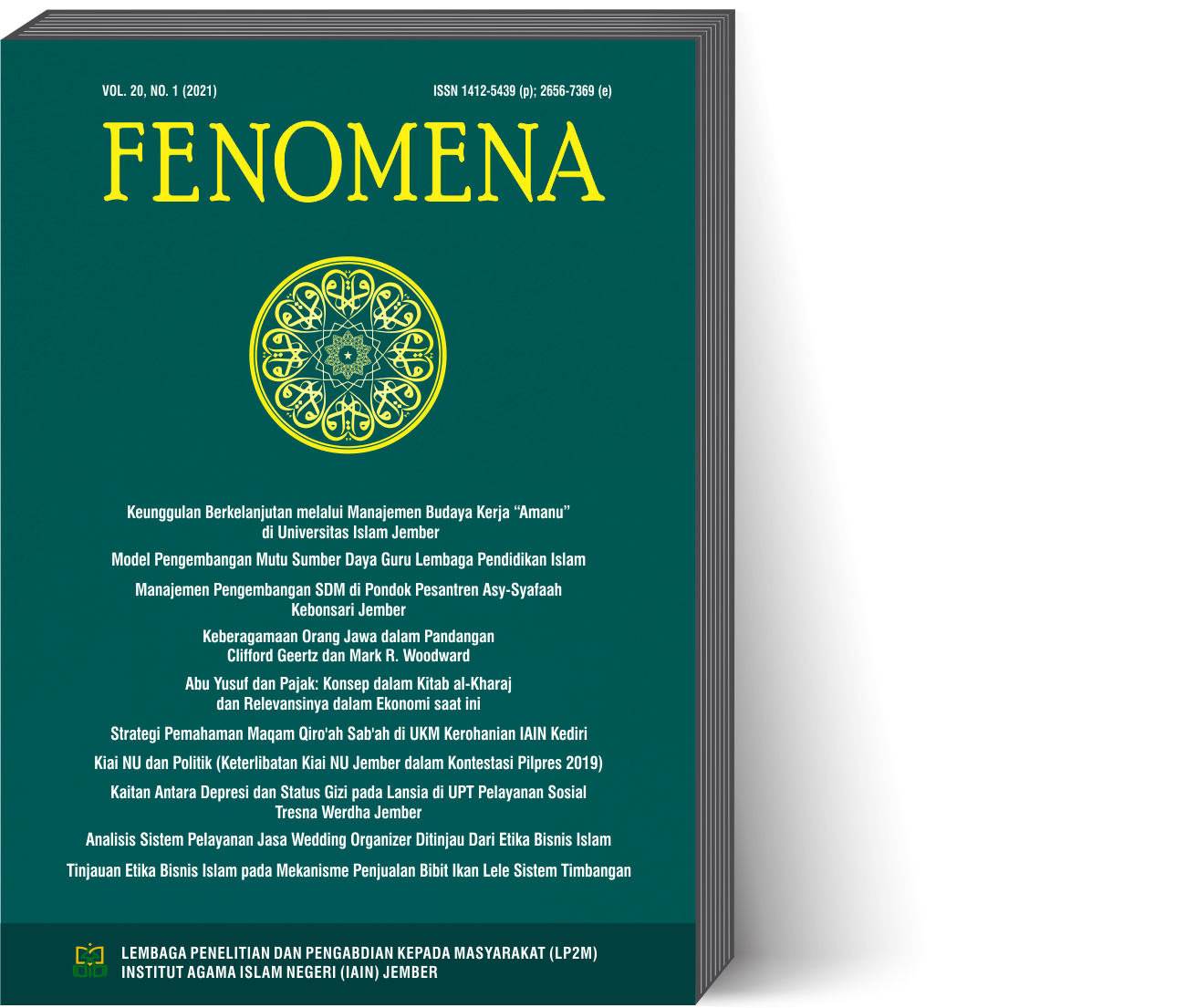 Downloads
How to Cite
Haris, Abdul, and Abdulloh Dardum. 2021. "KIAI NU DAN POLITIK (KETERLIBATAN KIAI NU JEMBER DALAM KONTESTASI PILPRES 2019): Kiai NU And Politics (Involvement Of Kiai NU Jember In Presidential Election Contestation 2019)". Fenomena 20 (1):91 - 114. https://doi.org/10.35719/fenomena.v20i1.51.
License
Copyright (c) 2021 Abdul Haris, Abdulloh Dardum
This work is licensed under a Creative Commons Attribution-NonCommercial 4.0 International License.