TINJAUAN ETIKA BISNIS ISLAM PADA MEKANISME PENJUALAN BIBIT IKAN LELE SISTEM TIMBANGAN
Islamic Business Ethics Analysis in The Selling Mechanism of the Juvenile Catfish Weights System
Keywords:
Islamic business ethics, buying and selling, buying and selling of the weighing system, Etika Bisnis Islam, Jual Beli, jual beli sistem timbangan
Abstract
Usaha budidaya ikan lele saat ini semakin variatif. sejalan dengan kemajuan zaman dan teknologi, prinsipnya cenderung menggunakan lahan seminimal mungkin agar mendapatkan hasil yang maksimal. Dalam praktiknya, ada model jual beli bibit lele yang menggunakan timbangan. Penelitian mengunakan metode kualitatif dengan metode observasi untuk melihat fakta yang terjadi di lapangan. Data yang terkumpul dianalisis menggunakan menggunakan metode analisis penelitian deskriptif. Tujuan Penelitian untuk megetahui bagaimana praktik jual beli bibit ikan lele sistem timbangan dalam perspektif Etika Bisnis Islam. Hasil penelitian mengungkapkan bahwa Praktik jual beli bibit ikan lele yang terjadi di Dusun Tawang ini jika dilihat dari segi ketauhidan sebenarnya telah memenuhi rukun dan syarat dalam jual beli. Dalam kaitannnya dengan etika bisnis islampun tidak ada pelanggaran berat. Namun dalam prosesnya masih ada kecurangan yang dilakukan pembeli yaitu menimbang dengan tidak adil. Selebihnya sudah sesuai dengan etika bisnis islam.
Catfish farming is currently increasingly varied. In line with the advancement of times and technology, the principle tends to use as little land as possible to get maximum results. In practice, there is a model for selling catfish seeds that use scales. This research uses qualitative and observational methods to see the facts in the field. The collected data were analyzed using the descriptive research analysis method. The research objective was to find out how to practice selling catfish seeds with a weighing system from the perspective of Islamic Business Ethics. The study's results revealed that the practice of buying and selling catfish seeds that occurred in Tawang, when viewed from the standpoint of monotheism, fulfilled the pillars and requirements of purchasing and selling. About Islamic business ethics, it is not heavy. However, in the process, buyers still commit fraud, namely weighing unfairly. The rest is by Islamic business ethics.
Downloads
Download data is not yet available.
References
Anggito, Albi. Johan Setiawan. (2018). Metodologi Penelitian Kualitatif. Sukabumi: CV Jejak.
Almanhaj, Jual Beli Jazaf (Tanpa Ditimbang Atau Ditakar), Menjual Hutang Dengan Hutang https://almanhaj.or.id/4034-jual-beli-jazaf-tanpa-ditimbang-atau-ditakar-menjual-hutang-dengan-hutang.html dikases pada 13 Januari 2020
Ariesyantoso. (2017). Tallaqi Rukban, https://ariesyantoso.wordpress.com/2017/08/08/tallaqi-rukban/ dikases pada 30 Jan-uari 2020
Basrowi. (2005). Pengantar Sosiologi. Bogor: Ghalia Indonesia.
Djakfar, Muhammad. 2007. Etika Bisnis dalam Perspektif Islam. Malang: UIN Malang Press.
Djuwani, Dimyaudin. (2010). Pengantar Fiqh Muamalah. Jogjakarta : Pustaka Pelajar.
Gazali, Abdoel Rahman. (2010). Fiqh Muamalah. Jakarta : Kencana.
Hidir, Achmad, Arif Zunaidi, Petrus Jacob Pattiasina, Understanding Human Resources Management Strategy in Imple-menting Good Government Practice: What Research Evidence Say. IRJMIS: In-ternational research journal of management, IT and social sciences Vol. 8 No. 3 (2021): May https://doi.org/10.21744/irjmis.v8n3.1658
Harahap, Sofyan S. (2011). Etika Bisnis dalam Perspektif Islam. Jakarta: Salemba Empat.
Pengusahamuslim, Hukum Jual Beli: Juzaf (jual Beli Spekulatif) https://pengusahamuslim.com/77-hukum-jual-beli-juzaf-jual-beli-spekulatif. diakses pada 13 januari 2020.
Juwani, Dhimyaudin. (2010). Pengantar Fiqh Muamalah. Jogjakarta : Pustaka Pelajar.
Ramly, Ar Royyan. (2017). Analisis Jual Beli Modern Dalam Islam, http://jurnal.serambimekkah.ac.id/akad/article/view/240/234
Rozhalinda. 2016. Fikih Ekonomi Syariah. Jakarta : Grafindo Persada.
Sampurno, Wahyu Mijil. (2016). Penerapan etika bisnis Islam dan dampaknyaterhadap kemajuan bisnis industri rumah tangga. Sampurno, Journal of Islamic Economics Lariba. vol. 2, issue 1
Sumarin. 2013. Ekonomi Islam Sebuah Pendekatan Ekonomi Mikro Perspektif Islam. Jogjakarta : Graha Ilmu.
Suhendy, Hendy. (2002). Fiqh Muamalah. Jakarta : Raja Grafindo Persada.
Siswadi. (2013). Jual Beli Dalam Perspektif Islam. Jurnal Ummul Qura Vol III, No. 2, Agustus.
Ummah, Diny Duratul. Ainul Churria Almalachim. (2019). Perilaku Etika Bisnis Pedagang Sayur Di Pasar Tradisional Mang-gisan Tanggul Perspektif Abu Hamid Muhammad Al-Ghazali. Fe-nomena, Vol. 18 No. 2. DOI: https://doi.org/10.35719/fenomena.v18i2
Zunaidi, Arif. Facrial Lailatul Maghfiroh. (2021). The Role Of Women In Improving The Family Economy. Dinar, Vol 8, No 1: Januari. DOI: https://doi.org/10.21107/dinar.v8i1.10581
Wahyunti, Sri. (2018). Praktik Jual Beli Ikan Dalam Perspektif Bisnissyariah (Studi Kasus Pasar Kore Kecamatansanggar Kabupaten Bima, Jurnal Esa, Vol. I No. 1 April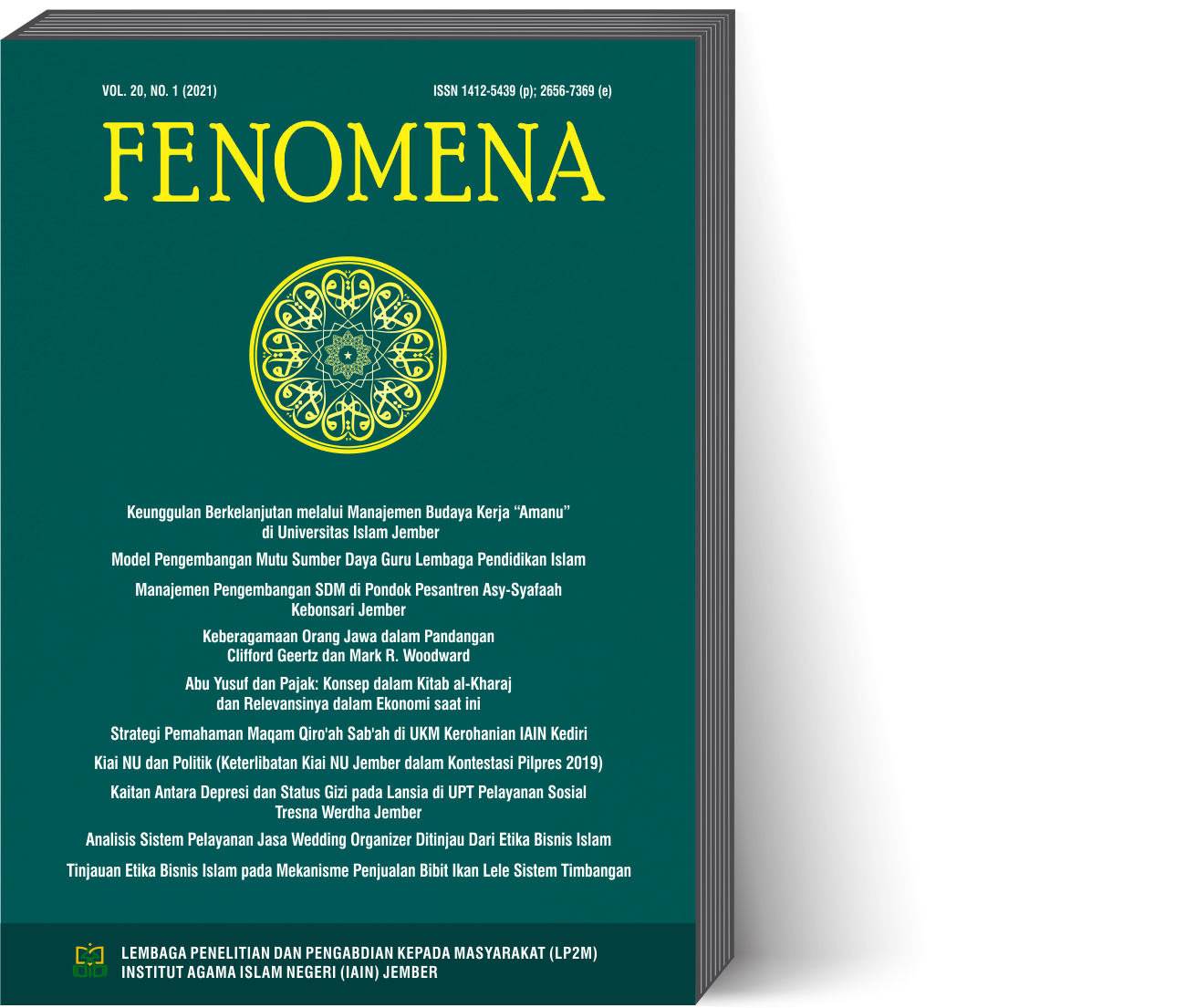 Downloads
How to Cite
Zunaidi, Arif, Elisa Fitri Febriani, and Jamaludin A Khalik. 2021. "TINJAUAN ETIKA BISNIS ISLAM PADA MEKANISME PENJUALAN BIBIT IKAN LELE SISTEM TIMBANGAN: Islamic Business Ethics Analysis in The Selling Mechanism of the Juvenile Catfish Weights System". Fenomena 20 (1):145 -64. https://doi.org/10.35719/fenomena.v20i2.54.
License
Copyright (c) 2021 Arif Zunaidi, Elisa Fitri Febriani, Jamaludin A Khalik
This work is licensed under a Creative Commons Attribution-NonCommercial 4.0 International License.