ANALISIS SISTEM PELAYANAN JASA WEDDING ORGANIZER DITINJAU DARI ETIKA BISNIS ISLAM (Studi Kasus Di UD. Santoso Wedding Organizer)
Analysis Of Wedding Organizer Service System In Terms Of Islamic Business Ethics (Case Study In UD. Santoso Wedding Organizer)
Keywords:
System services, wedding, business ethics of Islam
Abstract
Wedding Organizer is a service that provide services for organizing all the activities relating to the need in a marriage. This business appears because of the opportunities of modern life who want speed, convenience, and practicality separately troubleshooting time deficiency urban communities. This research is motivated by the many people who use the wedding organizer to hold the wedding. Therefore, this study tried to see how the service system in UD. Santoso wedding organizer is already in line with Business Ethics Islam or not. From this background, the issue to be addressed is how the service system in UD. Santoso wedding organizer as well as whether the service system implemented by UD.Santoso it conforms with the Business Ethics Islam or not. The theory used in this study is one of them according to the "Sinambela," which explains what is meant by the service and "Napitupulu." Meanwhile, to collect data through interviews and secondary data such as internet assistance and journals. The results of this study indicate that this UD has run the service system. Santoso uses the principle of honesty and openness. This means that no shift caused one of the injured parties between the service provider and tenant services. On the other hand, the service system is implemented by the UD in terms of Islamic Business Ethics. Santoso conforms to the principles of Islamic Business Ethics.
Downloads
Download data is not yet available.
References
Abdullah, M. Amin, dkk. Etika Muamalah. Malang: Program Pascasarjana UMM, 1997.
Anonim "Mengenal Jasa Wedding Organizer dan Event Organizer", Studio Pelangi, http://studiopelangi.com/article/147202/mengenal-jasa-wedding-organizer-dan-event-organizer.html. diakses pada tanggal 21 September 2016.
Ash Shiddieqy, Hasbi. Pengantar Fiqh Muamalah. Semarang: Pustaka Rizqi Putra. 1997.
Bahreisy,Salim, dkk. Tafsir Ibnu Katsir Jilid 2. Surabaya: PT Bina Ilmu, 2005.
Basyir, Ahmad Azhar. Asas-Asas Hukum Muamalat. Yogyakarta: Fakultas Hukum VII. 1993.
Departemen Agama RI. Al-Qur'an dan Tafsirnya. Jakarta: Lentera Abadi. 2010.
Djakfar, Muhammad. Etika Bisnis Dalam Perspektif IslaM. Malang: UIN-Malang Press, 2007.
Indra, " Apa itu Wedding Organizer?", Vicca Sera, http://www.viccasera.com/berita-174-apa-itu-wedding-organizer.html. diakses pada tanggal 21 September 2016.
Nejatullah Siddiqi, Muhammad. Kegiatan Ekonomi Dalam Islam. Jakarta: Bumi Aksara, 1991.
Norvadewi. "Bisnis Dalam Perspektif Islam. Telaah Konsep, Prinsip dan Landasan Normatif". Al-Tijary, 1 (Desember, 2015).
Raras, Anggono. Menjadi Manager Sukses. Bandung: Alfabeta, 2008.
Sabiq Sayyid. Fiqh Sunnah. III, 198.
Shihab, M. Quraish. Tafsir Al-Misbah. Jakarta: Lentera Hati, 2002.
Sudarsono. Pokok-pokok Hukum Islam. Cet. I Jakarta: Rineka Cipta. 1992.
Zuhaili, Wahbah. Al-Fiqhul al-Islami wa Adillatuhu, Jilid 5, diterjemahkan Abdul Hayyie Al-Kattani dkk. Jakarta : Gema Insani. 2011.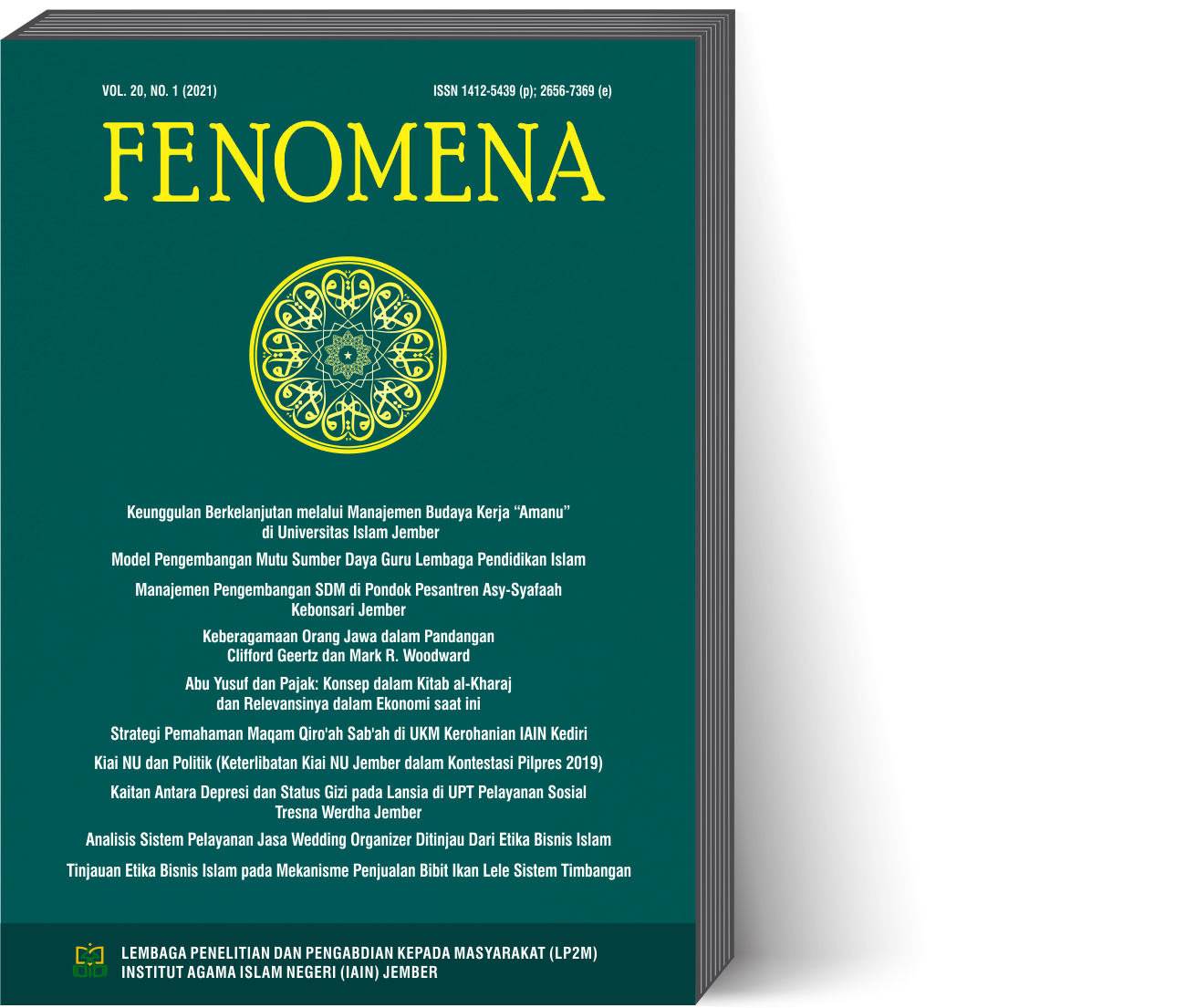 Downloads
How to Cite
Muzaiyin, Alwi Musa. 2021. "ANALISIS SISTEM PELAYANAN JASA WEDDING ORGANIZER DITINJAU DARI ETIKA BISNIS ISLAM (Studi Kasus Di UD. Santoso Wedding Organizer): Analysis Of Wedding Organizer Service System In Terms Of Islamic Business Ethics (Case Study In UD. Santoso Wedding Organizer)". Fenomena 20 (1):129 -44. https://doi.org/10.35719/fenomena.v20i1.56.
License
Copyright (c) 2021 Alwi Musa Muzayyin
This work is licensed under a Creative Commons Attribution-NonCommercial 4.0 International License.