CHARACTERISTICS OF INDIGENOUS CULTURE AND DISASTER MANAGEMENT OSING TRIBE, KEMIREN VILLAGE, GLAGAH DISTRICT, BANYUWANGI REGENCY
Keywords:
Culture, Disaster Management, Osing Tribe, Adat, Budaya, Manajemen Bencana, Suku Osing
Abstract
Banyuwangi has excellent potential in Tourism sector. One is Osing traditional tourism located in Kemiren Village, Glagah District. With the possibility of culture, that is still a perfect opportunity to introduce the original culture of Banyuwangi throughout Indonesia and even abroad. The method used in this study is descriptive qualitative data collection techniques used in the study of observation and documentation. The purpose of this study is to know and know the cultural customs and disasters of the Osing Tribe, Kemiren Village. The results of the analysis based on the calculation of IFAS and EFAS are known quadrant matrix is located in Quadrant I; this shows that the village Kemiren has a favorable situation which has an excellent opportunity to make the village Kemiren as a disaster-aware Tourism Village. Traditions such as Barong Ider Bumi, Tumpeng Sewu, drinking coffee, Angklung Paglak, Mocoan Lontar Yusuf, and sustainable traditional house systems can be significant forces to increase disaster mitigation capacity.
Downloads
Download data is not yet available.
References
Aksha, Sanam K. and Christopher T. Emrich, "Benchmarking Community Disaster Resilience in Nepal," International Journal of Environmental Research and Public Health 17, no. 6 (March 18, 2020): 1985, https://doi.org/10.3390/ijerph17061985.
Amri, Mohd. Robi, Gita Yulianti, Ridwan Yunus, Sesa Wiguna, Asfirmanto W. Adi, Ageng Nur Ichwana, Roling Evans Randongkir, and Rizky Tri Septian. Risiko Bencana Indonesia. Jakarta: Badan Nasional Penanggulangan Bencana, 2016.
Anoegrajekti, Novi. Podho Nonton: Politik Kebudayaan dan Representasi Identitas Using, 2017. https://repository.unej.ac.id/xmlui/handle/123456789/80455.
Birkmann, Joern et al., "Strengthening Risk-Informed Decision-Making: Scenarios for Human Vulnerability and Exposure to Extreme Events," Disaster Prevention and Management: An International Journal 29, no. 5 (August 26, 2020): 663–79, https://doi.org/10.1108/DPM-05-2020-0147.
BNPB. Peraturan Kepala Badan Nasional Penanggulangan Bencana Nomor 03 Tahun 2012 (2012). https://web.bnpb.go.id/jdih/download/get_file/140.
BPS Banyuwangi. "Kecamatan Glagah Dalam Angka Tahun 2021." Banyuwangi, 2021.
Cappelli, Federica, Valeria Costantini, and Davide Consoli, "The Trap of Climate Change-Induced 'Natural' Disasters and Inequality," Global Environmental Change 70 (Sep-tember 2021): 102329, https://doi.org/10.1016/j.gloenvcha.2021.102329.
Estevão, Cristina and Carlos Costa, "Natural Disaster Management in Tourist Destinations: A Systematic Literature Review," European Journal of Tourism Research 25 (May 1, 2020): 2502, https://doi.org/10.54055/ejtr.v25i.417.
Hariyadi, Edy. "Basanan Dan Budaya Kopi Di Banyuwangi." SEMIOTIKA: Jurnal Ilmu Sastra Dan Linguistik 14, no. 2 (February 5, 2022): 168–82. https://doi.org/10.19184/semiotika.v14i2.30121.
Hermawan. "Tumpeng Sewu, Merawat Kearifan Lokal Banyuwangi." Kantor Berita Radio, 2014. https://kbr.id/nusantara/09-2014/tumpeng_sewu__merawat_kearifan_lokal_banyuwangi/58615.html.
Imam, Rosidin. "Cerita Tsunami 13 Meter di Banyuwangi pada 1994 yang Telan 200 Korban Jiwa." KOMPAS.com, June 2, 2021. https://regional.kompas.com/read/2021/06/02/121527678/cerita-tsunami-13-meter-di-banyuwangi-pada-1994-yang-telan-200-korban-jiwa.
Murdyastuti, Anastasia. "Peran Pemerintah Desa Dalam Perubahan Pariwisata Osing Di Desa Kemiren Kecamatan Glagah Kabupaten Banyuwangi" 4, no. 2 (2020): 117–26.
Pemkab Banyuwangi. Peraturan Daerah Kabupaten Banyuwangi Nomor 08 (2012). https://jdih.banyuwangikab.go.id/dokumen/perda/PERDA_8_TAHUN_2012.pdf.
Rifat, Shaikh and Weibo Liu, "Measuring Community Disaster Resilience in the Conterminous Coastal United States," ISPRS International Journal of Geo-Information 9, no. 8 (July 23, 2020): 469, https://doi.org/10.3390/ijgi9080469.
Sari, Nindia Nazmei. "Musik Angklung Paglak Desa Kemiren Banyuwangi." Solah 8, no. 2 (2018). https://jurnalmahasiswa.unesa.ac.id/index.php/solah/article/view/31197.
Sufia, Rohana, Sumarmi Sumarmi, and Ach Amirudin. "Kearifan Lokal Dalam Melestarikan Lingkungan Hidup (Studi Kasus Masyarakat Adat Desa Kemiren Kecamatan Glagah Kabupaten Banyuwangi)." Jurnal Pendidikan: Teori, Penelitian, dan Pengembangan 1, no. 4 (April 1, 2016): 726–31. https://doi.org/10.17977/jp.v1i4.6234.
Suprijanto, Iwan. "Rumah Tradisional Osing Konsep Ruang Dan Bentuk." DIMENSI (Journal of Architecture and Built Environment) 30, no. 1 (June 17, 2004). https://doi.org/10.9744/dimensi.30.1.
Syah, Fathur Rahman. "Wisatawan dalam Perkembangan Desa Kemiren Tahun 2013-2019." kumparan, 2022. https://kumparan.com/fahtur-rahman-syah/wisatawan-dalam-perkembangan-desa-Kemiren-tahun-2013-2019-1y8jfTJokMv.
Tim Komunikasi Kebencanaan BNPB. "Resiliensi Sektor Pariwisata Menyikapi Ancaman Bencana." Default title, 2021. https://bnpb.go.id/berita/resiliensi-sektor-pariwisata-menyikapi-ancaman-bencana-.
Tomas, Moch Isa Ansori. "Upaya Pengembangan Desa Wisata Melalui Kelompok Sadar Wisata (Studi Desa Kupuk Kecamatan Bungkal Kabupaten Ponorogo)." Publika 5, no. 5 (July 31, 2017). https://jurnalmahasiswa.unesa.ac.id/index.php/27/article/view/21155.
Tsuneki, Hori and Rajib Shaw, Local Disaster Risk Management in a Changing Climate: Per-spective from Central America, 1. ed, Community, Environment and Disaster Risk Management 17 (London: Emerald Group Publ, 2014).
Wijaya, Pricillia Yolanda, and Steffi Alyssandrea Purwanto. "Studi Rumah Adat Suku Osing Banyuwangi Jawa," 2017, 7.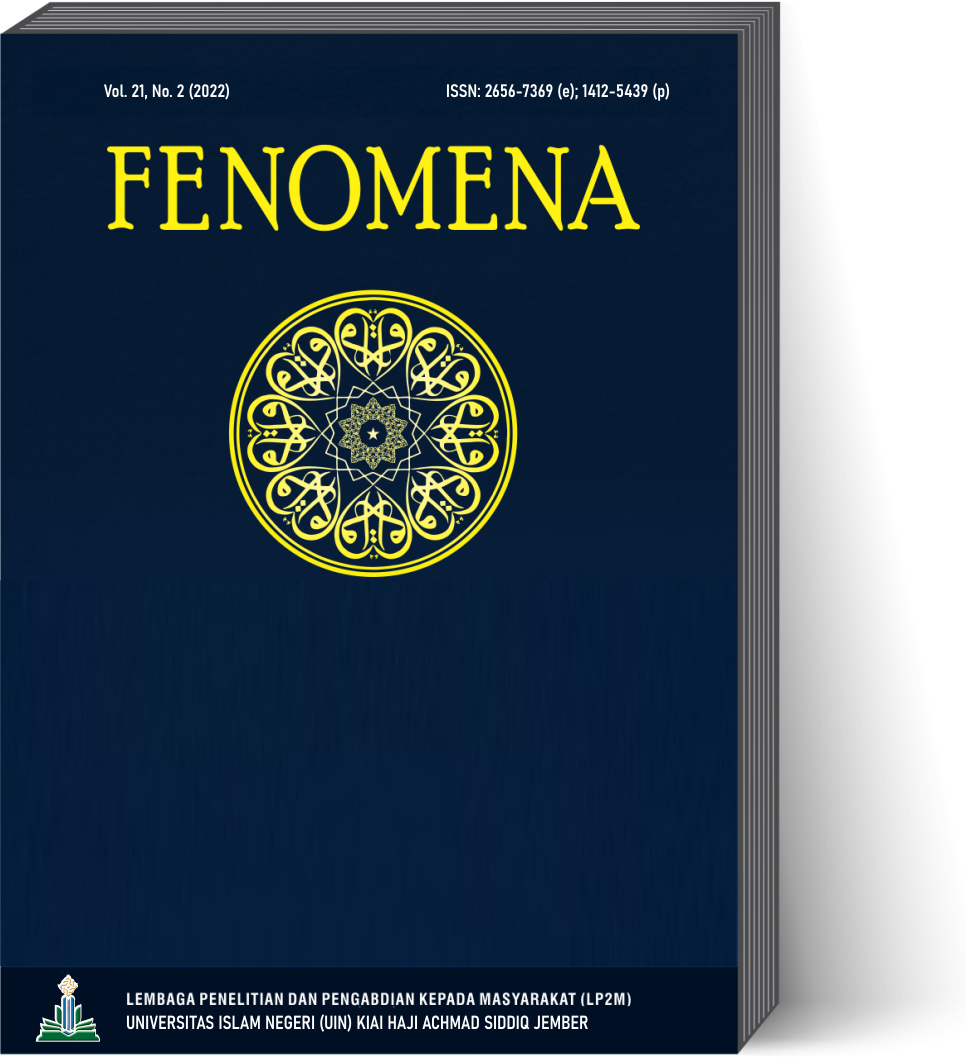 Downloads
How to Cite
Shofwan, Mochammad, Nasobi Niki Suma, and Jelita Citrawati Jihan. 2022. "CHARACTERISTICS OF INDIGENOUS CULTURE AND DISASTER MANAGEMENT OSING TRIBE, KEMIREN VILLAGE, GLAGAH DISTRICT, BANYUWANGI REGENCY". Fenomena 21 (2):283 -98. https://doi.org/10.35719/fenomena.v21i2.130.
License
Copyright (c) 2022 Moch. Shofwan, Nasobi Niki Suma, Jelita Citrawati Jihan
This work is licensed under a Creative Commons Attribution-NonCommercial 4.0 International License.